🎄🎶 Join Us for the Spectacular Annual Christmas Concert! 🎶🎄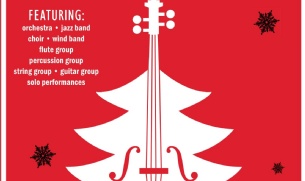 Celebrate the festive season with an evening of captivating music as our talented students showcase their musical prowess at the Annual Christmas Concert! 🎻🎷
Event Highlights:
Orchestra: Be swept away by the grandeur of our full orchestra as they perform timeless holiday classics.
Jazz Band: Get into the groove with the cool, smooth sounds of our Jazz Band's festive tunes.
Choir: Experience the angelic voices of our Choir, harmonizing to bring you the spirit of Christmas.
Wind Band: Let the powerful and melodious Wind Band stir your holiday spirit.
Flute Group: Enjoy the delicate and enchanting melodies from our Flute Group.
Percussion Group: Feel the rhythm with the dynamic beats of our Percussion Group.
String Group: Be serenaded by the soothing strings, playing carols old and new.
Guitar Group: Strumming their way into your hearts with acoustic renditions of Christmas favorites.
Solo Performances: Witness the impressive talent of our soloists as they shine on stage.
Details:
Date: Tuesday, 5th December 2023
Time: 7:00 PM
Venue: Connolly Hall
Ticket Price: £5
Tickets:
Secure your seat to this magical evening by purchasing tickets through Wisepay. Don't miss out on this enchanting night that promises to be filled with joy, music, and holiday cheer!
🎟️ Tickets are selling fast! Get yours today and ensure you're part of this memorable holiday tradition. 🎟️
We look forward to welcoming you and your loved ones to an unforgettable celebration of music and community. Let's make this Christmas one to remember!
🌟 Save the date: 5th December - A night of music awaits! 🌟