End of Term Arrangements *Amended*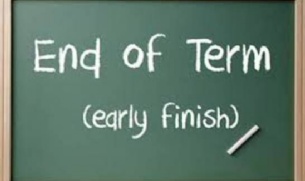 Last day of term and Beginning of Spring Term arrangements.
Lessons on Friday 18th December will take place virtually at home.
The Mufti day that was originally happening on Friday 18th December has now been moved to Thursday 17th December.
Last day of term
The last day of term is Friday 18th December. Virtual lessons will run for all students for periods one, two and three.
Beginning of Spring Term
The Spring Term begins on Tuesday 5th January. Students should arrive at the same staggered arrival times that they have been used to for the Autumn Term:
Year 9: 8:35am
Year 10: 8:40am
Year 11: 8:45am
Year 12/13: in time for period 1 (9:05) if students have a lesson at this time.