News from Summer 2016
Designers 2016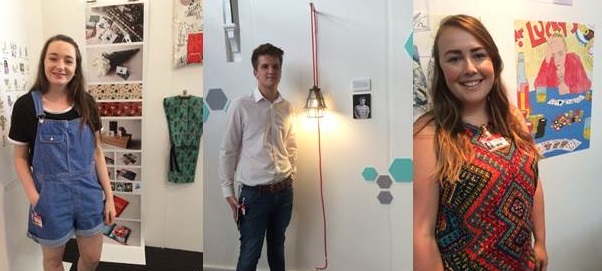 On the 8th of July, a group of year 12 Graphic and Product design students went to the New Designers exhibition at the Business Design Centre Islington. This is an annual exhibition of graduates work from a range of colleges and universities across the country. The aim of the visit is to allow students access to design work from a range exhibitors to help inspire their final units as well as helping to inform their choices when it comes to applying to universities and colleges later in the year. As usual there was a vast array of work and the standard continues to improve. With companies such as 'Not on the High Street' and 'John Lewis' hoping to find new ideas this is a really important exhibition for graduates.
Current students were able to discuss with graduates and tutors approaches to design and prototyping as well as how to approach their portfolios and personal statements.
The exhibition this year featured the work of four previous students and it was great to see their success. Emily Caves, Will Saunders, Stephanie Jones and Megan Highland were all exhibiting with fellow students from Hertfordshire University, Bedford University, Nottingham Trent and Portsmouth University respectively.
A thoroughly enjoyable and informative day was had by all.
Inspiring Lead Verifiers meet Awarding Bodies to choose Courses for Future Vocational Wealth Creators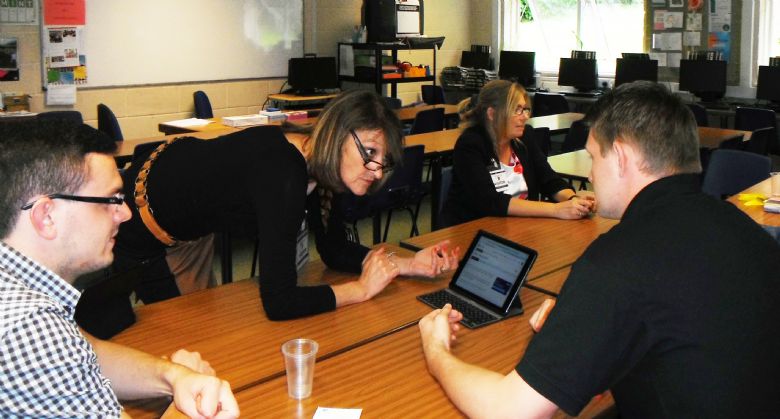 At the recent Vocational Lead Verifiers meeting, guest speakers were invited from Pearson's and OCR. Representing Pearson's were Pam Baker, Curriculum Development Manager and two of her colleagues Carol Barnes, Curriculum Support Consultant and Joyce Marriott, Field Sales, along with Clare Hickey, Regional Account Manager: East represented OCR. David Jones, Regional Representative for WJEC / Eduqas came into school a couple of weeks previously to explain about the new Level 3 Medical Science qualification which the school will be introducing in September 2017 into the sixth form curriculum which is an exciting development particular for students who often choose BTEC Level 3 in Biology to go alongside other vocational courses such as BTEC CPLD and Sport courses in the sixth form.
The focus of attention was investigating which qualifications should be in the school's portfolio of vocational qualifications for years 10 to 13 including appropriate qualifications for the full range of abilities to enable students to pursue their careers in their chosen vocational field. Lead Verifiers choose the course rather than the Awarding Body so that in one department Lead Verifiers such as Mrs Hartley offer OCR Cambridge Nationals and Technicals in Health and Social Care as well as a BTEC CPLD Course because they are the 'best fit courses' for student's future career prospects. Also Lead Verifiers for Food and Work skills were interested in future changes as students have done well on these courses which embed life skills and preparation for the work environment alongside the intrinsic development of literacy and numeracy within a realistic context.
One key question focussed on the introduction of external assessments into vocational qualifications and the format of those examinations which vary from being based on pre-released case studies to those taken in an examination room. Lead verifiers asked questions about the availability or resources to ensure that students will be fully prepared for the examinations.
Another key questions was about for the Vocational Technical Awards, which differ from the Vocational Applied General Awards, in that with the Technical Awards request that there are strong links with industrial contacts and the most important and robust links will be through former students who have done well in their chosen field such as in Biological Science, Business, Child Care and Development; Fashion and Clothing, ICT and the Sport.
The introduction of the new vocational qualifications will have its challenges and at the Lead Verifiers at Redborne are being very proactive and attending external training events as well as this is the second time that outside speakers have been in school so that Lead Verifiers can compare and contrast the qualifications from a variety of awarding bodies to choose what is best for their students and which will prepare them for a career in that vocational field.
Sheila Wilson: Quality Nominee and Vocational Coordinator.
Summer Concert 2016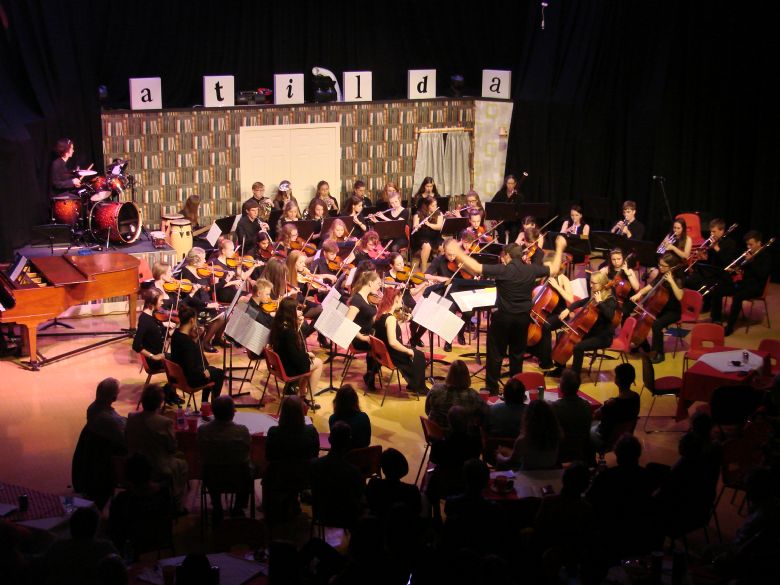 With such a hectic schedule for the Music department this term, the Ampthill Proms and the trip to Austria, the summer concert and the Jazz Cafe were combined into a musical extravaganza this year. What an evening! It was filled to the brim with truly outstanding music from all aspects of the musical spectrum that Redborne has to offer. There were sections from the brass, strings, full orchestra, the choir and the Jazz Band. The crowd were fully entertained and it was the perfect way to celebrate all the hard work of the students and staff at the end of a long year. Well done to all and best wishes for the upcoming tour to Austria. For pictures of the evening, please click here.
House Festival 2016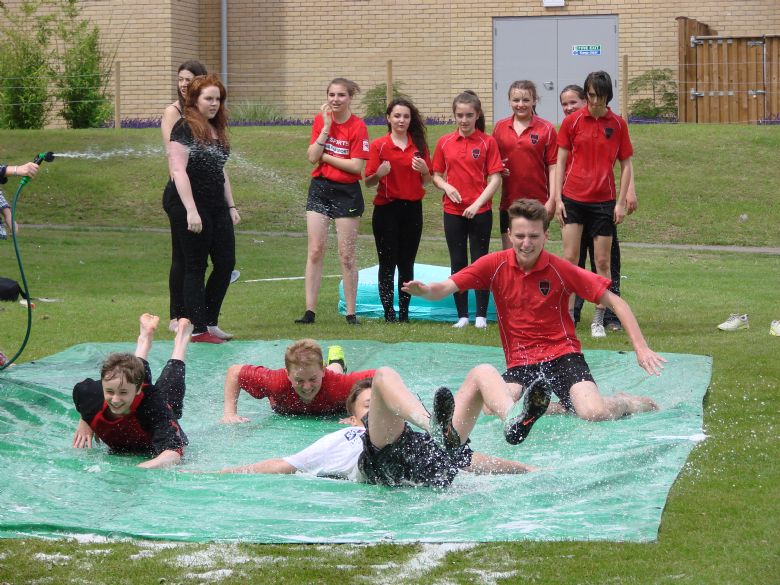 There was a new event on the calendar this year for the students at Redborne. A House Festival which included a variety of events from American football to samba, from maggot racing to chess and from tough mudder to mindfulness occured over a two hour period. Students chose to take part in two events with participation points going towards their house totals. It was a lively afternoon, helped by some favourable weather, which owes a great deal to the organisation of Mr A Jones and his team. For pictures of the afternoon, please click here. Students can see more by visiting lesson store.
Photo Competition
It is time for another photographic competition and the theme this year is Geo-Selfies. For more information, please click here.
Gifted and Talented PE Visitor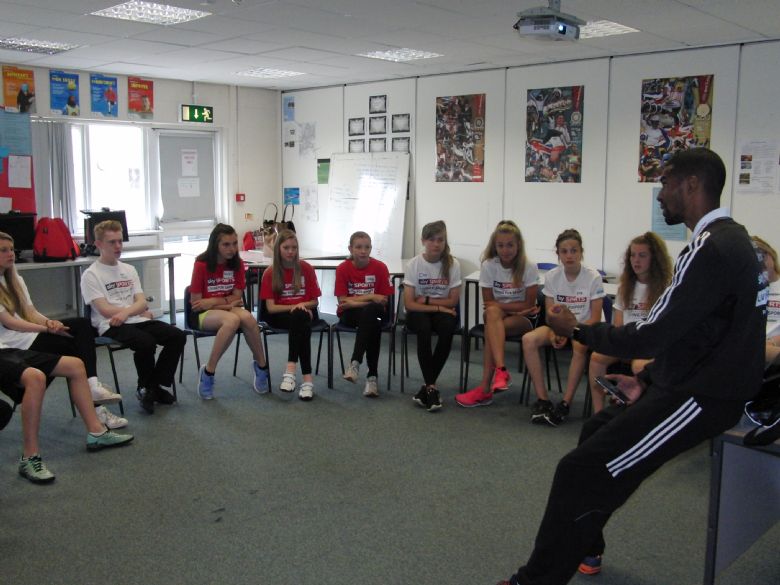 For the third year running, Redborne Able Gifted and Talented students have been rewarded with the opportunity to be inspired by a guest athlete mentor through the Sky Sports Living project. This year we were fortunate to have a returning guest, London 2012 GB Paralympian and England Footballer Alistair Patrick-Heselton, to inspire our students. Alistair delivered a morning of interactive and practical workshops based on Sky Sports Living 'Six Keys to Success'; Mental toughness, Hunger to achieve, People skills, Sports and life knowledge, Breaking barriers and Planning for success. The day started with a presentation of his is story from being a former professional QPR U17s and U19s footballer, including the ups and downs of his career and the life changing car accident, which put him in a coma for three months. After waking up he was told that he would never walk again or play football but after a lot of determination he made an extraordinary recovery. Four years later he was approached by the FA and he made his debut scoring for England at the 2011 Cerebral Palsy World Cup against Korea. He went on to be selected for Great Britain's CP Football team (Cerebral Palsy or brain injury sufferers) in London 2012. An Excellent time was had by all and we would like to thank Alistair for his time and inspiration.
Outstanding Sporting success and achievements:
Elliot Fleet (Y9) Finished 3rd in the Powerboat GT15 British Championships May 2016.

Joe Turney (y10) Seeded 5th in the UK, Rotax Minimax class Karting and is taking part in a European invitational competition.

Thomas Bryant (Y10) Has been selected for the British Youth Sailing Team.

Izzy Goode (y11) is ranked British U19 Wakeboarding Champion and will be taking part in this year's European Championships.

Benjamin Davies (Y12) finished 3rd in English National Cross Country Championships at Castle Donington and currently ranked 19th in the UK U20's 1500m category, competing against many much older athletes.

Ryan Owens (former student) Has been selected for Team GB's Men's track cycling squad for the Rio 2016 Olympic Games

Ben Chilwell (former student) Award Leicester City 2015/2016 U21 club player of the year and was a part of the Leicester City team to lift the Premier League trophy.
Redborne Jazz Band Sway the Proms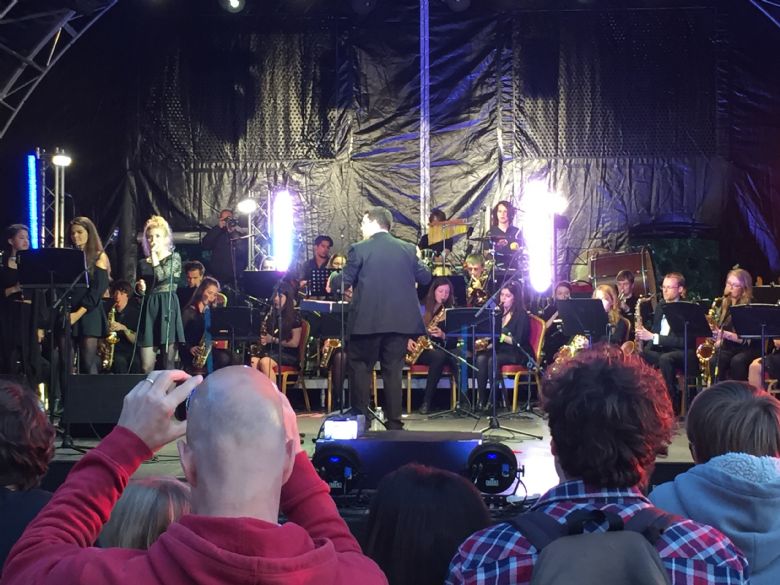 For the fifth year in a row, Redborne Jazz played the Ampthill Proms and showed what a polished act they are. From their first note, the crowd moved forward and swayed to the sounds of the popular tracks that they played with the Redborne twist. The crowd were entertained with some classic soul and jazz and even shouted for an encore, a first for the Proms. A massive well done to all the staff and student involved in putting on a wonderful show. Remember, they play again on Thursday as part of the summer concert, so get your tickets from the school shop for an enjoyable evening of talented Redborne musicians.
'Save the Dates' - important drama productions
Drama - 'save the dates' to parents of GCSE drama students.
Yr 10 drama students have the opportunity to watch The Curious Incident of the Dog in the Night-time at Milton Keynes Theatre on 13th September, 2017. This is for assessed work that will count towards their GCSE. Letters have gone home (w/b 27th June 2016) asking for payment before 19th July 2016. .
Yr 11 drama students need to ensure that they are in school p3 and 4 on 28th September, 2016 to watch a visiting theatre performance of Macbeth. Unless they watch this, they will not be able to write the associated piece of coursework. The drama department is covering the cost.
It is important that any appointments avoid these dates to ensure that the students are able to complete these important pieces of their GCSE courses.
Redborne Retain Trophy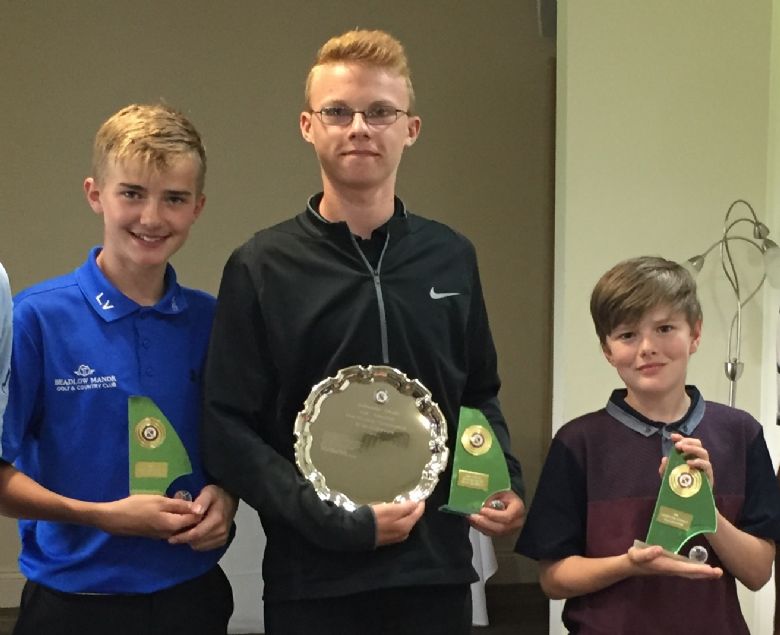 Redborne managed to retain the High Handicap County Golf Championships in some challenging conditions. The lads overcame a 90 minute rain delay before putting together three solid rounds of golf. Hayden Black also finished third in the individual event. Well done to Alex Barke, Lewis Vereecque and Hayden Black for their patience and excellent golf play.
Izzy Makes Waves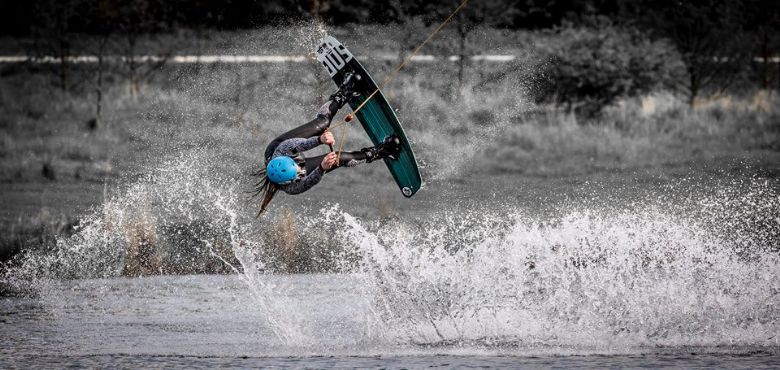 Izzy Goode has been announced as a 'Backing the Best' athlete from Sport England. She is the only athlete from Bedfordshire and has been used in their poster campaign and media launch with an interview on Sky Sports. Izzy is a member of the GB wakeboarding squad and is aiming to be selected for the Great Britain team to compete in the European Championships later on in the year. Well done Izzy.
Music News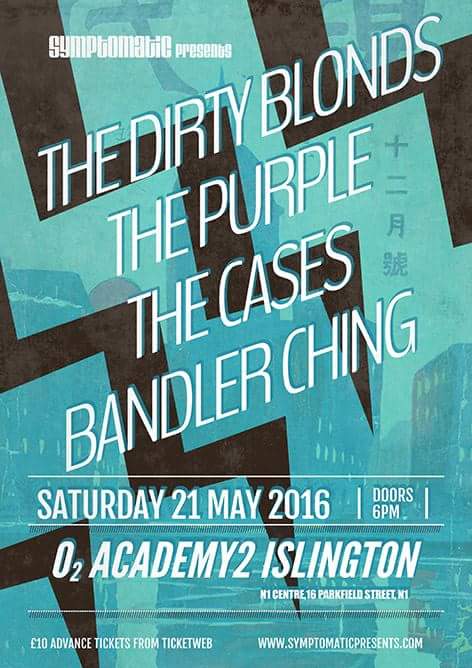 The
Summer Festival Concert
is on Thursday 7th July at 7pm. Congratulations to the Purple, winners of Redborne Battle of the Bands who play O2 Islington on Saturday 21st May.
Redborne Musings
The latest edition is now available here.
GCE Applied Business Master Class on Managing and Developing Self by a Deloitte
Charlotte Smith a former GCE Applied Business Student who achieved an A* who went on to do a 'Higher Modern Apprenticeship Scheme' at Deloitte's, rather than going onto University came into school to do a Master Class for unit 9 which is called 'Managing and Developing Self'.
Charlotte is currently finishing her first year at Deloitte's on the 'Bright Start' programme where she earns and learns and has a permanent job with the opportunity to achieve professional qualifications which are fully funded by Deloitte's and she is given a rounded approach to training and development. Deloitte's were keen for Charlotte to come into school because they have been very impressed by her and also have been complimentary about the opportunities given to work in a team whilst studying for the GCE Applied Business course.
There are a number of different specialisms at Deloitte's including Tax Consulting where Charlotte is currently doing, but other specialisms including: Consulting; Human Capital; Digital, Cyber and Technology; Property Advisory; Financial Advisory and Risk Advisory.
Several of our current year 13 GCE Applied Business students are currently applying to Deloitte's to follow the 'Higher Apprenticeship' programme, and the year 12 students were most appreciative of gaining an insight into 'Higher Level Apprenticeship' and it motivated them to do well.
Charlotte's hard work and professionalism whilst working for Deloitte's has enabled the school to have a good reputation and hence they encouraged her to come into school to do the presentation to recruit more students to the programme.
Fibre East
Once again, Redborne plays host to the Fibre East event. It is on 30th and 31st July and more details can be found here.
Congratulations Ben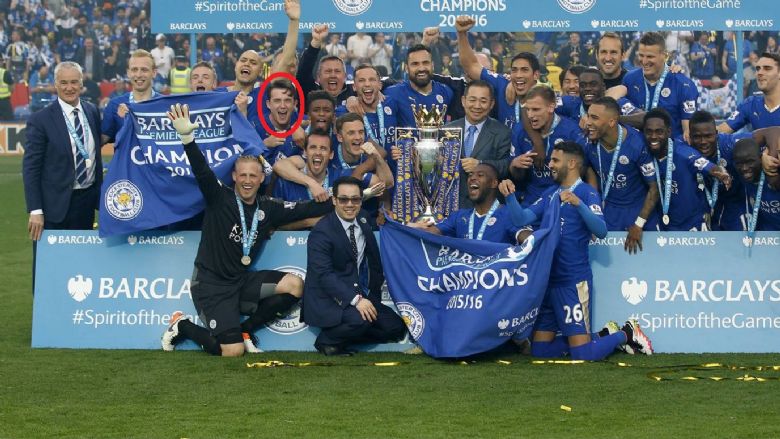 Leicester City raised the Premier League trophy on Saturday and it was a very proud moment for Redborne and one of its former students. Ben Chilwell (circled in the picture) has continued to achieve success in his chosen career, playing for his country at various levels and now lifting the title as a part of the amazing story that has been Leicester City this year. We congratulate him on his achievements and look forward to seeing him playing in Europe next season in the Champions League.
Year 11 Celebration Evening 2016
Last night saw the celebration of all Redborne Students receiving the top grades in English and maths. It was a chance for the students, their parents and teachers to celebrate their excellent achievements. For pictures of the evening, please click here.
Bronze Duke of Edinburgh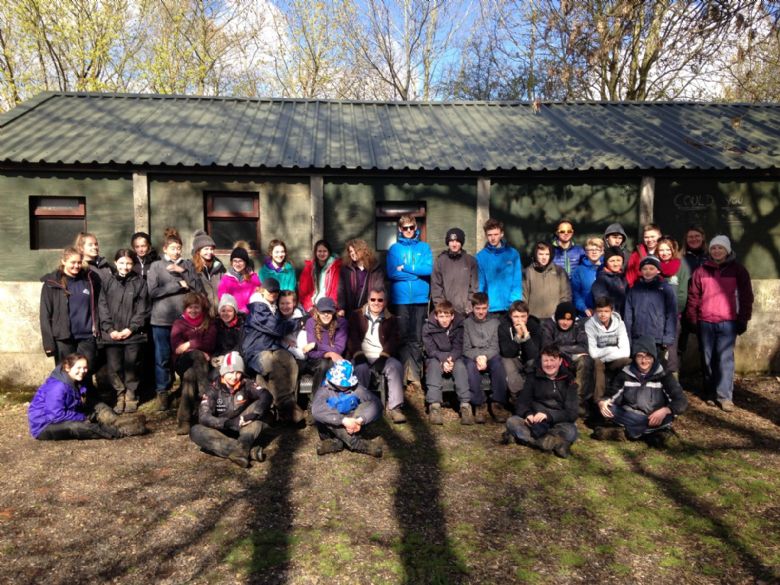 Over the 16th, 17th and 30th of April and the 1st of May Redborne Upper School had 67 students over two groups successfully completed the Bronze DofE training camps. DofE students faced challenging weather conditions on the first weekend culminating in a brief snowball fight. Although the second weekend held much nicer weather during the day, conditions in the evening proved a bit chilly. Despite this all of the students were mentally and physically stretched, tears were shed, new bonds of friendship forged and memories created. No doubt these experiences will prove vital to their successful completion of the upcoming assessed DofE Expeditions in June. June 20th - 21st will be the assessed expedition of Camp A DofE students while Camp B will complete their assessed walks on the 22nd and 23rd of June. A special thanks to all of the volunteer staff members whom gave their time to help and train the next generation of future leaders and the staff that briefly stopped in to support and encourage the students.
Bedfordshire Golf Championships 2016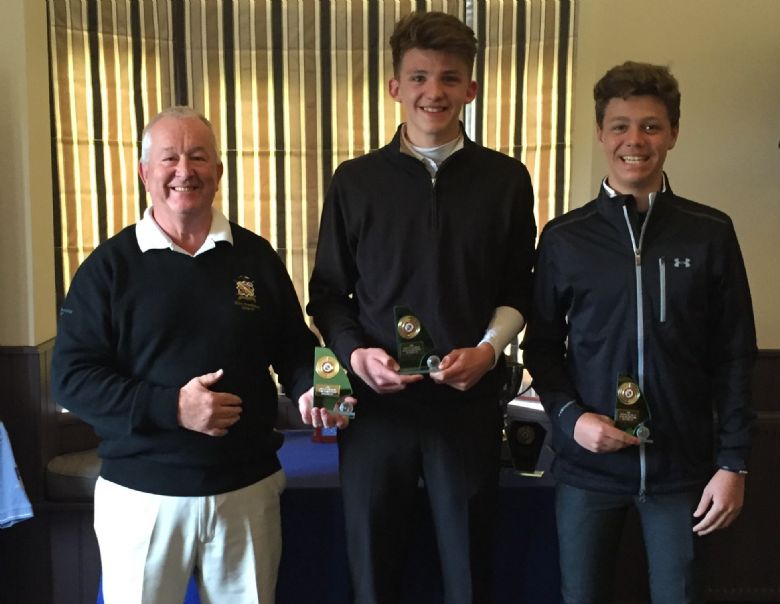 On Wednesday 27th May, Redborne sent its largest number of entrants to the Golf Championships held at the Millbrook Golf Course. On an excellent course with true greens and some sunshine on their backs, every member of the field had some ups and downs around the course. Redborne Team 1 managed to secure the runner up spot with George Skinner finishing second in the individual event to a very strong round of a student from Sharnbrook. Once again, Redborne students were a credit to themselves and their school.
Teachers for Tomorrow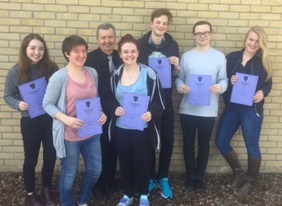 On Wednesday 20th April, a group of successful 6th formers attended a lunch to celebrate completing the Teachers for Tomorrow programme. Year 12 and 13 students have spent the last 9 months working with teachers and classes in a range of subjects from dance to physics, supporting, and even leading learning in the classroom. Mr Gray presented the students with their certificates and gave an inspirational speech about the rewards of being a teacher. We look forward to seeing them running their own classrooms in the future!
Author Visit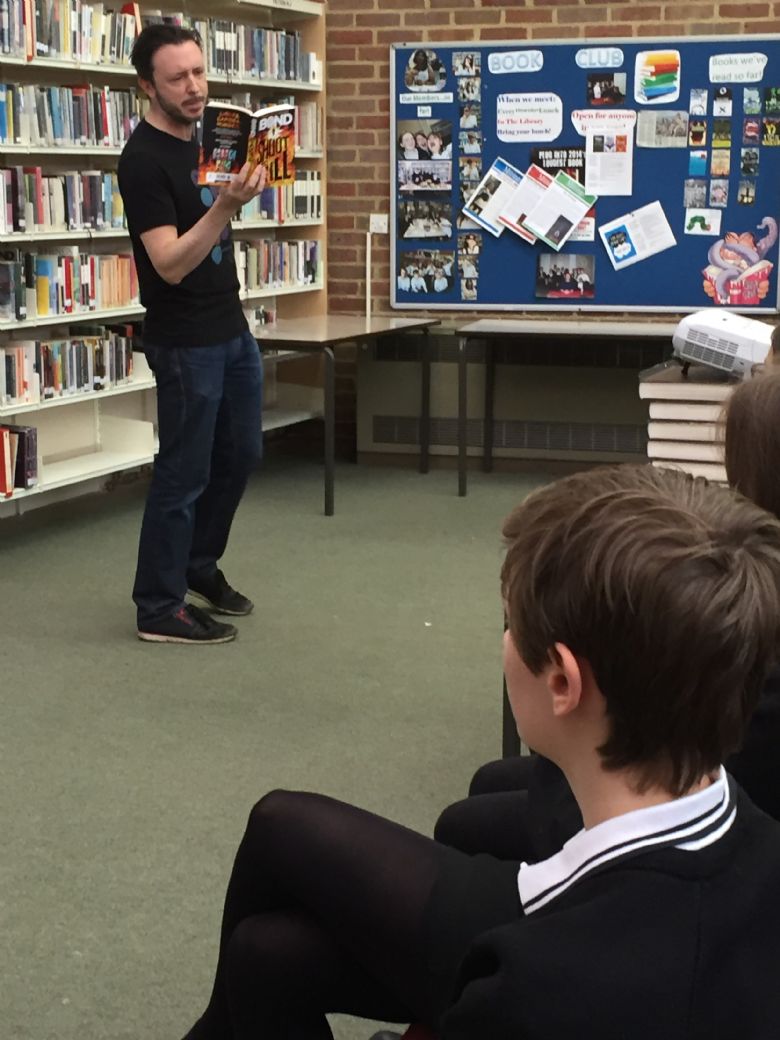 Young Bond author, Steve Cole, visited Redborne on Tuesday 19th of April to talk about his spy novels. Over seventy year 9 students were involved in this exciting experience where he shared his ideas and the process behind writing a novel.
Published Success
The school has received a copy of the 'Poetry Trials' South Eastern Anthology, which features poetry submitted to a national Young Writers competition by several of our Year 9 students. This is a fantastic achievement, and the English Department is very proud of our long list of contributors in this anthology. A second set of entries for a new competition 'Spine Chillers' was sent off before Easter, and we look forward to similar success for our students. The anthology will be in the South School Library from 20th April, and we encourage aspiring writers to have a look and consider entering the next competition as well. For more information, please see Miss Borritt or Mrs Graves in the English Office.
Former Student makes Inspirational Visit

Former student, GB cyclist and future Olympian Ryan Owens visited Redborne on the last day of term to give an inspirational presentation to the year 12 and 13 PE students. He provided an in depth practical case study of his life as an elite sportsman and tailored this around subject specific contemporary issues they have learnt about in their studies. British cycling is training and developing Ryan for the 2020 Tokyo Olympics and we are extremely grateful to him for giving up his time for Redborne students to benefit from his experience. We wish him the best of luck for the future.
Year 9 Visitor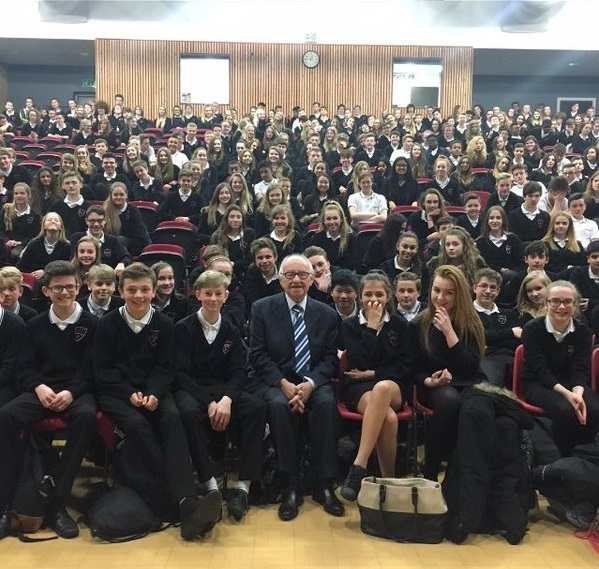 Year 9 had the privilege of meeting Zigi Shipper on Wednesday 16th March as he returned to Redborne for his 4th visit to tell students about his experience of surviving the Holocaust. Zigi left students with his perennial message of 'don't hate' and was gracious enough to pose for hundreds of 'selfies' at the end of the session. We look forward to seeing him again next year.
Duke of Edinburgh
Year 9 student, George Tobin enjoys a fantastic opportunity as a part of his Duke of Edinburgh Bronze award. George got to go to see how watches are made. For more information, please click here.
Spanish Immersion Trip 2016
The Spanish Immersion Trip was a huge success. Many thanks to all the students that attended and thanks to Mrs Shaw, Mrs Crespi and Mr Knightley. Students in years 9, 10 and 12 stayed with Spanish families for a week and enjoyed a range of cultural activities including days trips to Ronda and Marbella. For photos of the trip, please click here.
Spring Community Concert
The latest community concert was another huge success and showcased the talent of Redborne music students playing alongside other local musicians. Everyone should be congratulated for their hard work and highly polished performances. For photos of the evening, please click here.
Cooking Competition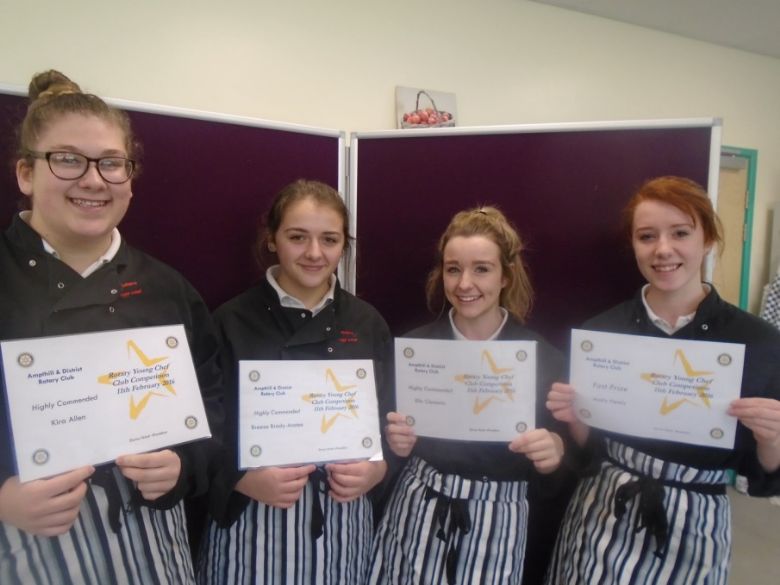 Redborne catering department held a cooking competition on Thursday 11th February. There were four year 10 competitors who make a healthy two course meal. The students who took part were Molly Healy, Ella Clements, Breeze Brady-Anstee, Kira Allen.
The competition was very close, but Molly Healy was judged to be the winner. She will go through to the District competition in March.
Hospitality Students Serve up a Treat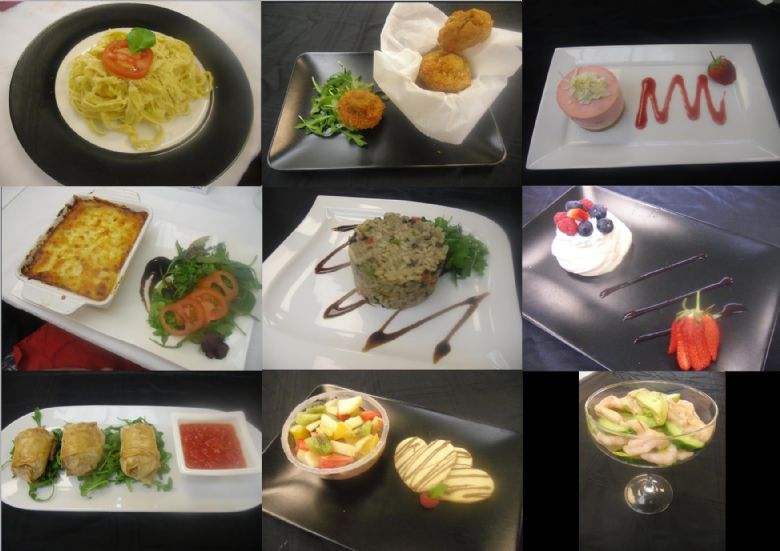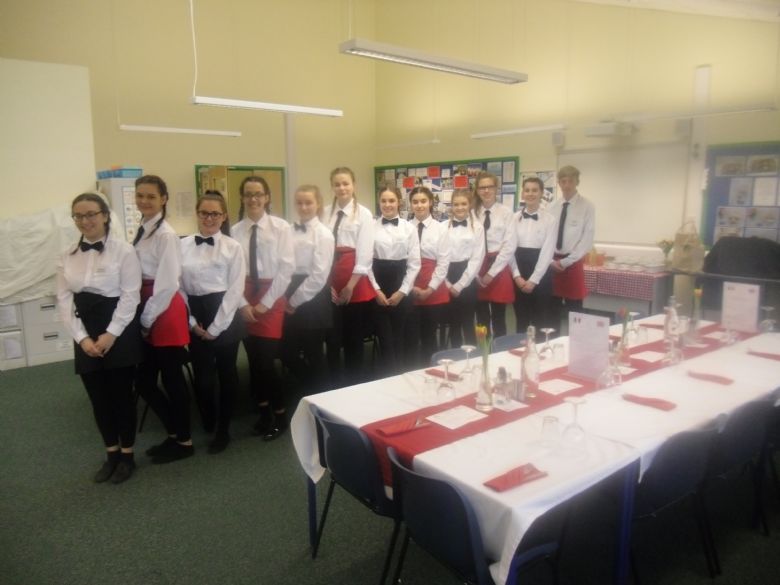 Year 11 hospitality students had to prepare and serve a three course meal to twenty WI ladies as part of their course. They have spent weeks researching and planning the event to come up with the menu.
The day was excellent; the students were faultless, working as a team and delivering a very smooth event for the guests. The whole meal was made from scratch including pasta, sauces, decorations - you name it! It is rather impressive considering there were over fifteen different dishes to prepare in a few hours and present to such a high standard.
Ben Receives Bronze Medal at National Cross Country Championships
Redborne student, Ben Davies ran in the National Cross-country Championships at Castle Donnington over the weekend and managed to come away with both individual and team bronze medals in his age group. He was very pleased with his performance, having had to pull out of the regional event. He enjoyed a very close race and used his track training to overtake a number of athletes in the final few hundred metres. We congratulate him and look forward to hearing of more success in the future.
Move over Sir Chris Hoy!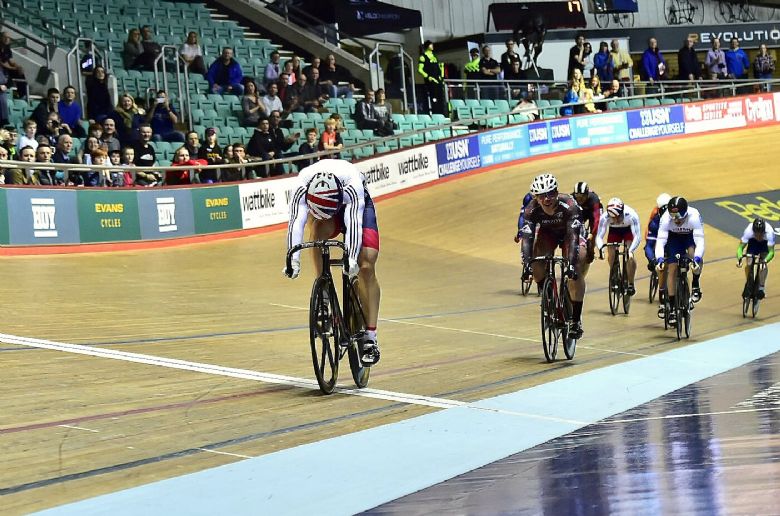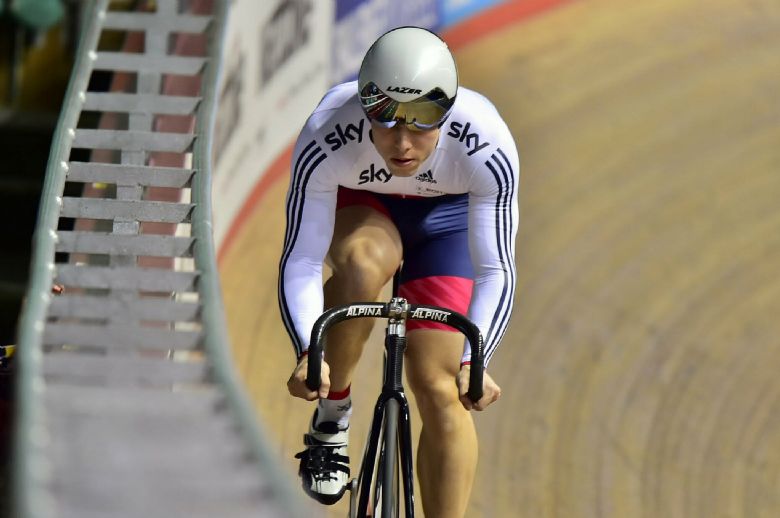 Former Redborne student, Ryan Owens has finally achieved one of his lifelong ambitions. Following a trial last September, he was taken on by the Great Britain Cycling Team on their full time residential Academy Programme and has moved up to Manchester to start his career as a professional cyclist.
Having started a graphics course at university, he took the difficult decision to follow his dream and attempt to make himself a career as a professional cyclist. This is something that he has been wanting to do for a very long time. He managed to get himself out to California and worked with his coach to prepare for the trials in September.
Hopefully, this is only the start and whilst Rio is almost certainly too close, he is in the team that is expected to be developed for the Tokyo 2020 Olympics. This is exciting news and we all wish him well for future success.
Redborne Students' Charity Challenge
Year 9 student Kelci Vickors has taken the £5 challenge to raise money for the Rotary Club's campaign to end Polio. She baked cakes and cookies and sold them during a single form time, managing to raise £35 pounds profit. She was helped by other members of her form, including Ella Gray and Maisie Broome. This is Kelci's second successful charity fundraiser this year, as she and Jade Vickers also raised £25 for Macmillan in September. Congratulations, Kelci.
Miss Clark
Christmas Jumper Appeal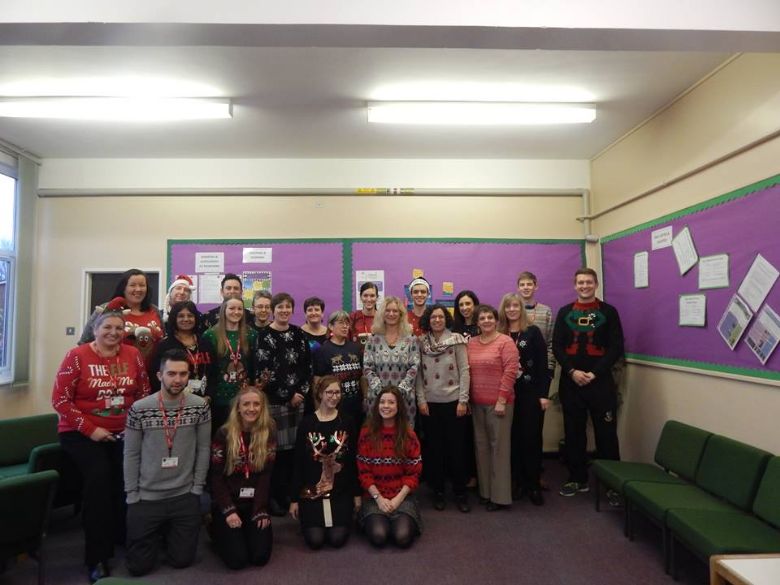 Staff and students have just received a certificate and a letter thanking them for their support of the Text Santa Christmas jumper appeal. Redborne raised over £300 by wearing festive jumpers. Thanks should go to all that supported the appeal.
Redborne Musings
The latest edition is available here.
Public Speaking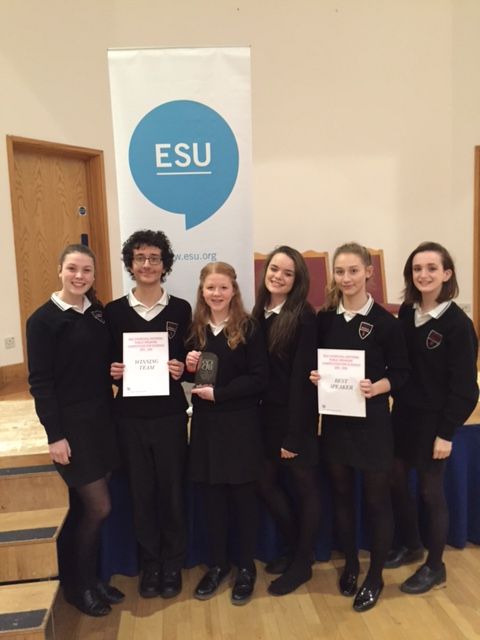 Redborne Year 11 students won the Ouse Valley Branch Final of the English Speaking Union's Public Speaking competition (having won it last year too):
Harriet Lockey
Erin McIntosh
Billy Simpson
Kathryn Hudson
Jennifer Lewis
Melissa Stapleton
Mr Knightly said that "the students were a pleasure to be with all evening and a credit to the school." They progress on to the regional final which will be held at Magdalene College, Cambridge University on Saturday 12th March.
Their
speech
was a particularly apt topic for students in their year group at this time of year.
Netball News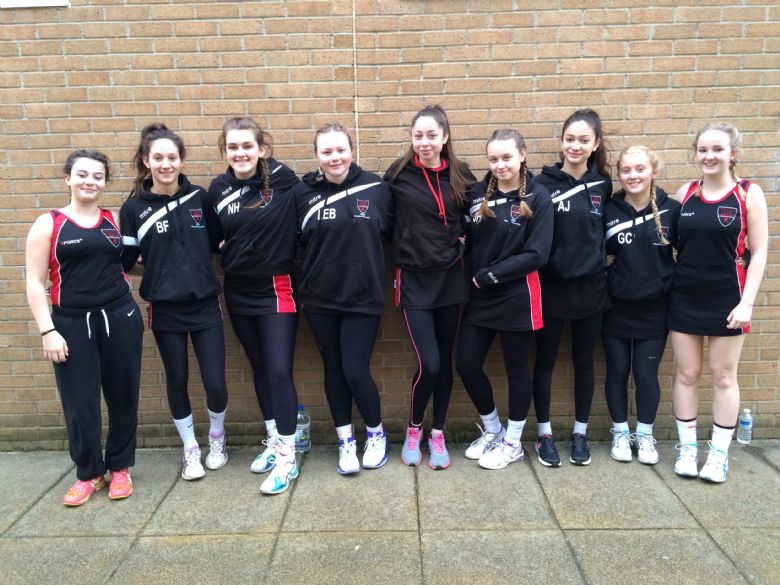 Despite not getting the outcome they wanted and progressing through to the National finals, the U16 netball team put in a good display on a very cold and windy day at the Regional Netball Finals at Hassenbrook School in Essex. They managed to win 3 of their group games and beat the otherwise undefeated team of the group and their achievement in making it through to the top 12 in the Eastern region is an achievement in itself that should not go unnoticed. Many thanks to Miss Rowley for scoring and Tracy Gilloran for assisting in the management of the team.
Squad: Ciara Duncan, Jessica Hughes, Beth Fletcher, Abi Houghton, Kelly Gilloran, Georgia Penfold, Anita Johnson, Tasha Hunt, Lauren Brown
Careers Fair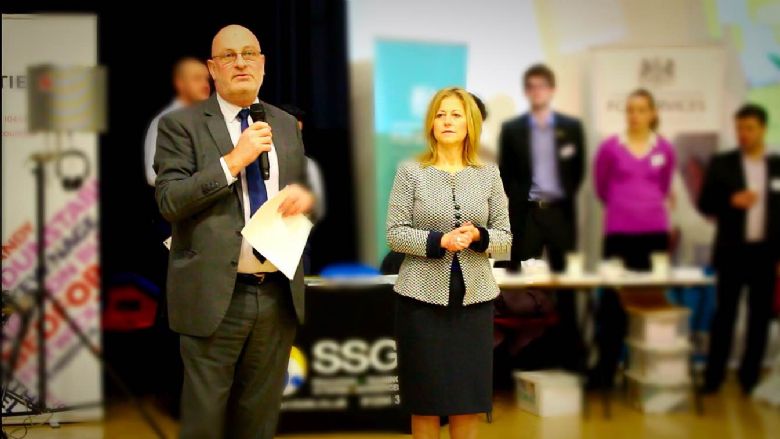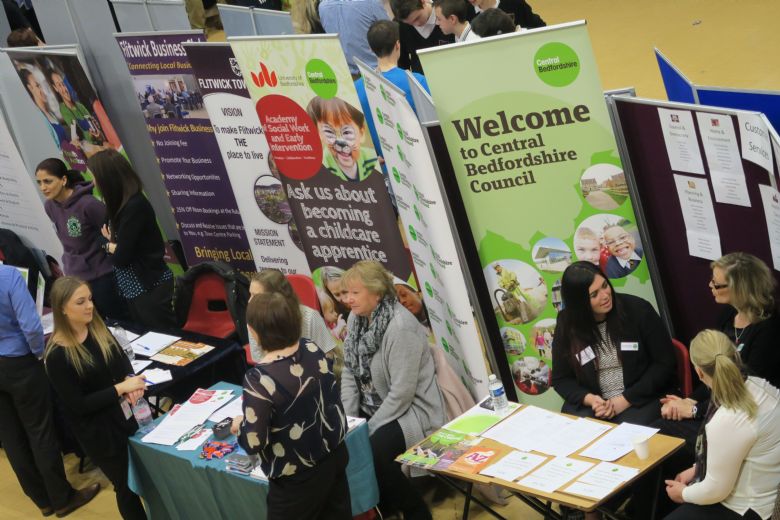 Students had the chance to find out about careers in everything from engineering and logistics, to social care and banking at Redborne's recent Careers Fair. More than 1,500 pupils had the chance to visit the event during the course of the day meeting with both local and national employers.
In addition to Bedford College and various apprenticeship providers, some of the 48 organisations who supported the day included Central Bedfordshire Council, Barclays, Center Parcs, BBC Three Counties Radio, Vauxhall, University of Bedfordshire, Arcadia Group (Top Shop), Mercedes Benz, Bloor Homes, Millbrook, the Army, Bedfordshire Police and the NHS.
The careers fair was officially opened by Jane Galvin, Managing Director for Barclays Eastern Region, who joined school Principal Nigel Croft in giving a speech.
Katrina Armstrong, Redborne's careers advisor, said:" Education Secretary Nicky Morgan was quoted in the media saying that schools are not informing students about apprenticeships – that is certainly not the case at Redborne where various apprenticeship providers attended our careers fair with live opportunities."
"The event gave all our students the opportunity to meet with delegates from employment and education in order to gain advice and information that will support them in making informed decisions in relation to them planning for their future."
"The main aims of the day were to promote industry and opportunities to tomorrow's workforce and to inform young people of the skills and qualities valued in recruitment and the development of staff. There was a real buzz to the event which was a huge success."
Battle of the Bands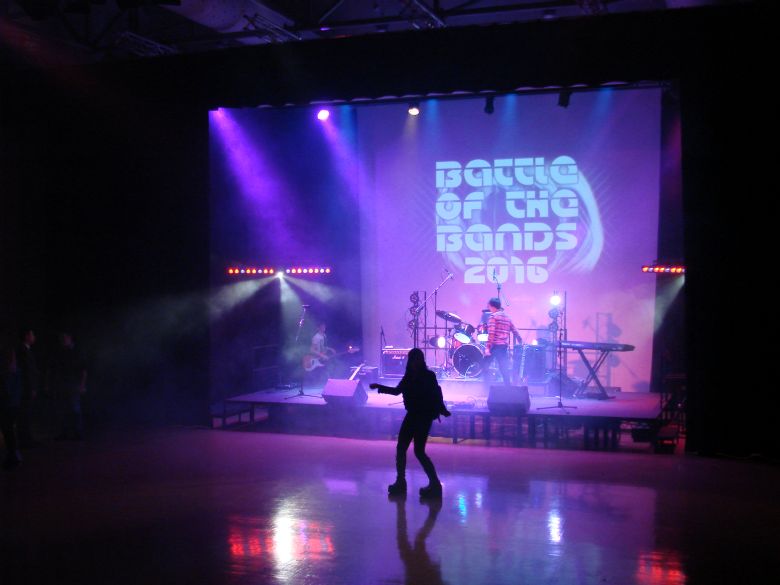 Once again the cream of Redborne Rock put on a fantastic show. It was the first time in the Connoly Hall and the show was as polished and professional as ever. For pictures of the event, please click here.
Dr Sutton makes the News again
Dr Sutton is once again in the news. He is currently writing a book about Ifield Mill, Crawley. For more information, please click here.
News and Information for February
We have started to send out a monthly information sheet for upcoming events by email. Please click here for the information. Please note there is a change to the non-uniform day from Thursday 4th February to Friday 5th February.
Fashion and Textiles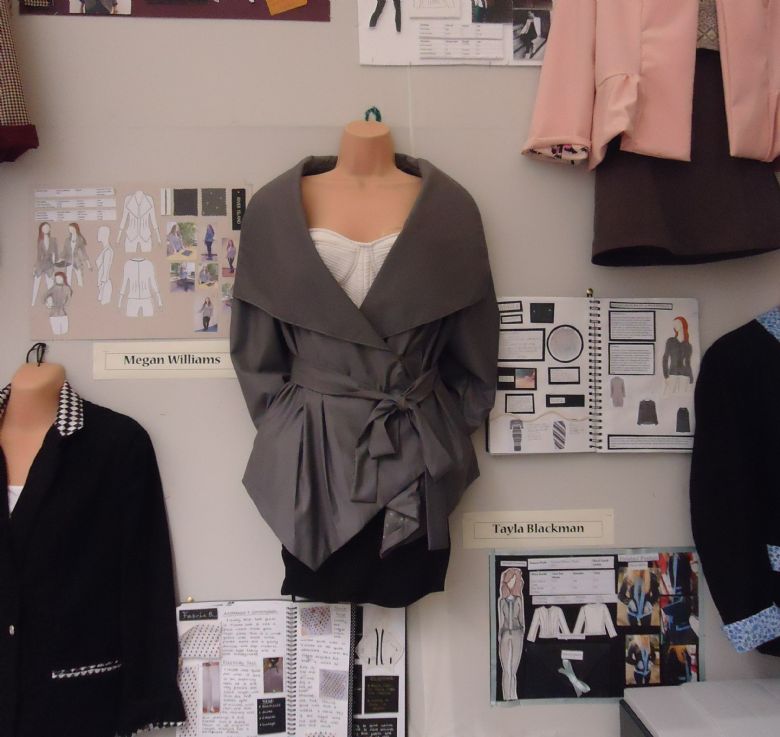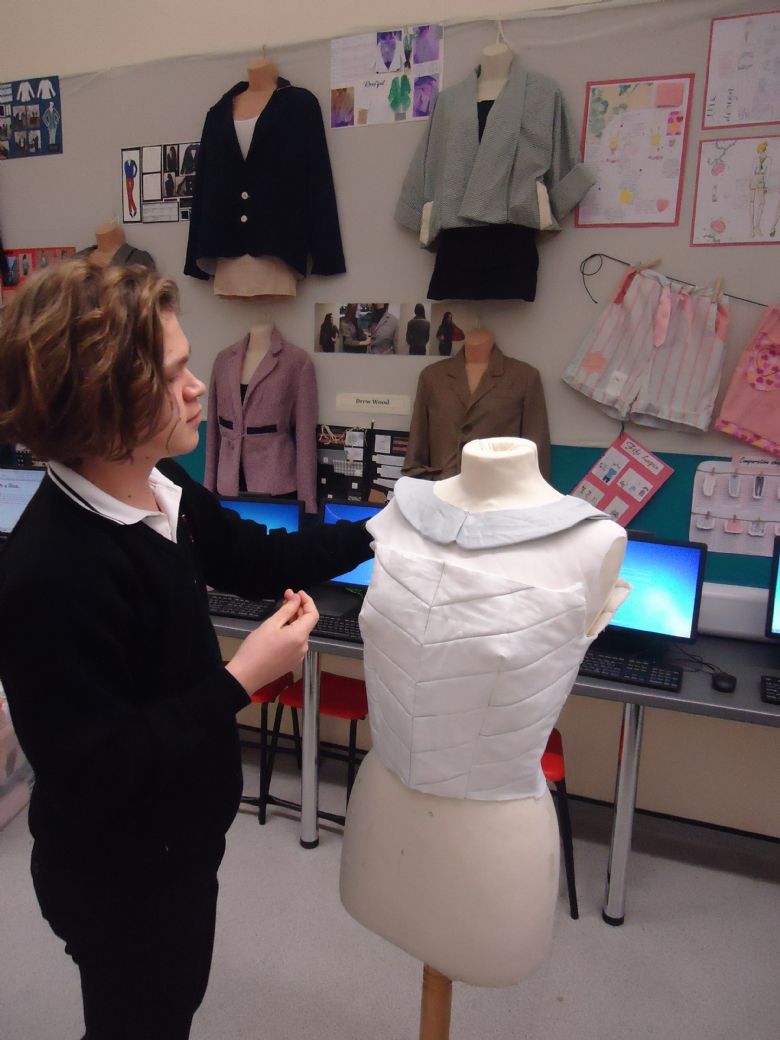 It has been a busy start to the year in the Fashion & Textiles department. Y9 are in the final stages of their Pyjama shorts project in which they have learnt the basics of garment making. Y10 are preparing to begin their first Controlled Assessment and Y11 are making final garments based on the themes of Pop Art, Culture or Camouflage in Nature.
Y12 have just completed the first two unit of their BTEC qualification, manufacturing tailored jackets and embellished bags. The staff have been very impressed by the exceptionally high standard of work this group are producing. Y13 have been preparing portfolios for university interviews and we would like to say a particular congratulations to Katie Daw, Ellie Bates, Millie De Kauwe and Maisie Regan who have already received offers from their first choice Universities to study Fashion related courses.
Exceptional Art
Following a trip the the National Academy to see the 'Wanderlust' exhibition by Joseph Cornell, Jack Lynch has produced some exceptional work. Mrs Blackwell, Head of Art, has commented that it is some of the best work that she has seen for a boy his age. Well done Jack and we look forward to seeing more from you in the future.
Careers Fair
Our
Careers Fair
is to be held on Thursday 4
th
February, 9:45 am to 3:10 pm in the Connolly Hall. The day will enable students to meet with delegates from employment and education in order to gain advice and information that will support them in making decisions in relation to them planning for their future.
It's going to be even bigger and more impressive than last time – we have had some fantastic offers of support. In addition to Bedford College and various apprenticeship providers coming, some of the 40 organisations present will include – Barclays, Center Parcs, the Foreign Commonwealth Office, Vauxhall, BBC 3 Counties Radio, Arcadia Group (Top Shop), Mercedes Benz, Bloor Homes, Millbrook, a local architect practise, solicitors, and surveyors, the Army, Navy and Central Bedfordshire Council.
The Careers Fair will:
Promote industry and opportunities to tomorrow's workforce and

Inform young people of the skills and qualities valued in recruitment and the development of staff.
The schedule for students can be seen
here
.
Former Student Shines at Spurs
Former student, Ben Chilwell, played for Leicester City at Spurs in the FA cup on Sunday and impressed with his performance. Ben is doing incredibly well and we wish him continued success. For more news on Ben, please click here.
Poetry Competition
On Thursday 10th December, five students between Years 10-13 competed in the regional selection round for a national poetry recital competition, 'Poetry By Heart.' Students recited one pre-1914 and one post-1914 poem to a collection of staff, parents and peers and were judged using competition standards by Mr Gray, Mrs Cook and Mr Knightley. Congratulations to Eleanor Burridge, Y13, who goes on to represent Redborne at the regional finals at the Quarry Theatre, Bedford on 28th January.
Visits Abroad with Redborne School
Visits Abroad with Redborne School and the Recent Terror Attacks in Europe
In the coming months a number of visits abroad are due to go ahead that involve students and staff from Redborne. We are mindful of the concerns that this may raise with parents and we would like to reassure you that staff at Redborne are reviewing the situation regularly, taking advice on travel abroad from the Foreign & Commonwealth Office as well as the tour operators who have organised the visits. Currently all of the visits abroad that are planned will go ahead as scheduled.