News from 2011
Christmas Concert 2011
The 2011 Christmas Concert was once again a spectacular affair with a large array of talent on view. For more pictures, click here.
Dance Show 2011
Two nights of exciting dance were held on Monday 12th and Tuesday 13th Decmeber. Both nights were successful with parents, staff and students alike supporting the hard work and talent of the performers. For the gallery, please click here.
World AIDS Day
Redborne students once again dig deep for charity. Year 11, as a prelude to their charity week, have raised nearly £100 in contributions for red ribbons for World AIDS Day, which was on on 1st December. They would like to thank everyone for their support.
Procedures for Snow Closures
As the weather starts to turn wintry, it is important that the school prepares for all scenarios. In the first instance, the school will endeavour to remain open if at all possible. However, if the weather becomes too bad, a decision will be made to close the school to ensure the safety of everyone. In this instance, there is a clear snow closure policy that the school has to follow.
If the decision to close is taken before the start of the school day, there will be announcements on local radio, a message on the school switchboard and a message on the school website. This year Central Bedfordshire have arranged for a School Closure System, which will mean that you can be kept up-to-date with all closures and of any local traffic issues through email. To make use of this system, please follow the details on the following link; http://www.centralbedfordshire.gov.uk/webApps/SOS
Should you have any questions, please contact the school in the usual way.
Somewhere to.......
There is a new website aimed at finding sporting activities to do for 16 - 25 year olds in the local area. If you want to try something different and have no idea where to go, visit http://www.somewhereto.com/ to find out.
Drama Festival, Autumn 2011
This term's drama festival is showcasing 'Our Country's Good' on the 7th and 8th December. Tickets are on sale in school, for more details, click here.
Sixth Form Enrichment Day
The year 12 Enrichment Programme is designed to inspire students, whilst giving them the opportunity to develop important life skills. This was purposefully scheduled at a time where the pressures of study build and students need to work hard to keep up with the demands of their courses. Running it at this time will help maintain motivation, give students a break from school stresses and allow them to participate in something useful to them.
The programme saw two past sports stars descend upon Redborne to share their inspirational life story with the year 12 students. Ashia Hansen spoke of her journey to win triple jump gold in the World and European Athletics Championships along with holding the world record in the event. She also spoke of how she battled her way through injury to achieve greatness against all odds and demonstrated great pride in silencing her critics with her unwavering motivation and commitment. Mike Mullen, an ex GB, professional and world half pipe champion BMX rider, gave an excellent and very down to earth speech about his life story and how he achieved his goals in BMX. Like Ashia, he faced many hurdles but had the determination to help him pull through and succeed.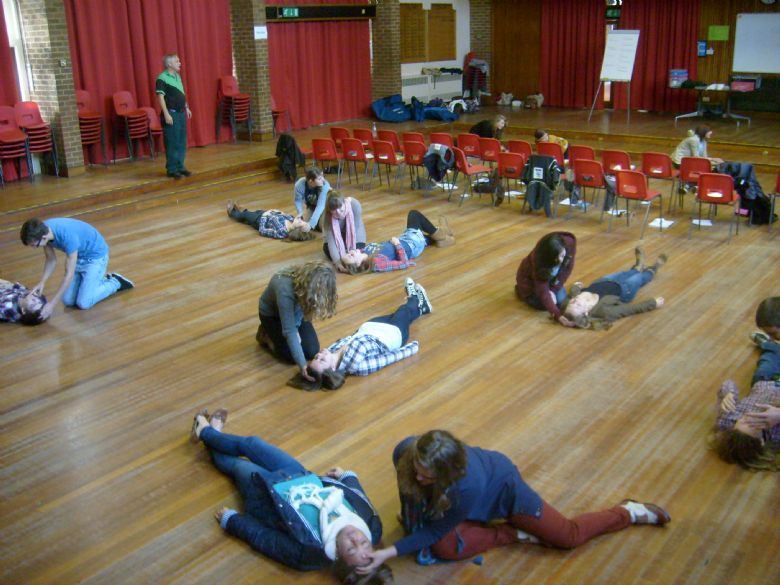 Along with the speeches, year 12 benefitted from a collapsed timetable and had the opportunity to participate in many events hosted by internal and external staff. The events were driving with Click Drive, rock climbing, sausage making, photography, personal statements, BMX with Mike Mullen, archery, cooking on a budget, meditation and relaxation, budgeting for beer, body image, self-defence, presentation skills, essay writing skills, coping with school stresses, study skills and gym induction. In addition to this, over two days 48 students achieved a First Aid qualification and 9 students successfully completed a leadership course.
The programme was very well received by students and staff and will hopefully now become an annual event. For more pictures, please click
here
.
Thank you to all staff involved who were pivotal in running such a successful programme.
Year 9 Parent Tutor Evening
Apologies to any parent who received an incomplete CATS booklet on this evening. For a complete booklet, please click here.
Opportunities in the Sixth Form Evening
Our Opportunities in the Sixth Form evening has changed, it is no longer on Wednesday 30th November, 2011. Due to anticipated disruption by public sector workers, the evening will now take place on Tuesday 29th November, 2011. For more details of our Sixth Form , please use themenu above or click here for more details of the evening.
GCSE Presentation Evening 2011
The GCSE Presentation Evening on Monday 21st November was an excellent evening and it provided the opportunity for parents, students and staff alike to celebrate the school's best ever results. There was a positive atmosphere in the hall and the staff spoke about their various recollections of the past three years. Please click here for photos of the evening. Once again cogratulations to all involved. Anybody not at the evening, wishing to collect their certificates, can do so from the exams office.
Year 13 Trip to a Brewery
On Monday 7th November, eight Year 13 students visited Charles Wells Brewery in Bedford to learn about the following:
The beer making process
Sustainability issues
The HACCP (Hazard Analysis Critical Control Point) process in a real life situation
Industrial manufacturer (equipment, processes etc.)
Packaging and distribution systems
They were particularly interested to learn that the brewery can produce approximately 215 million pints of beer a year because they brew continuously apart from Christmas day. They were amazed that the packaging machinery can fill approximately 860 cans and 500 bottles of beer a minute!
Year 9 Blue Peris Trip 2011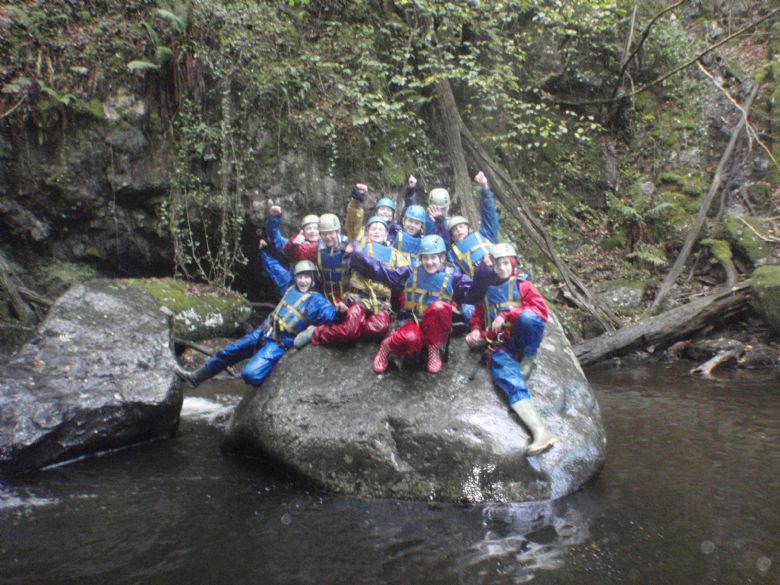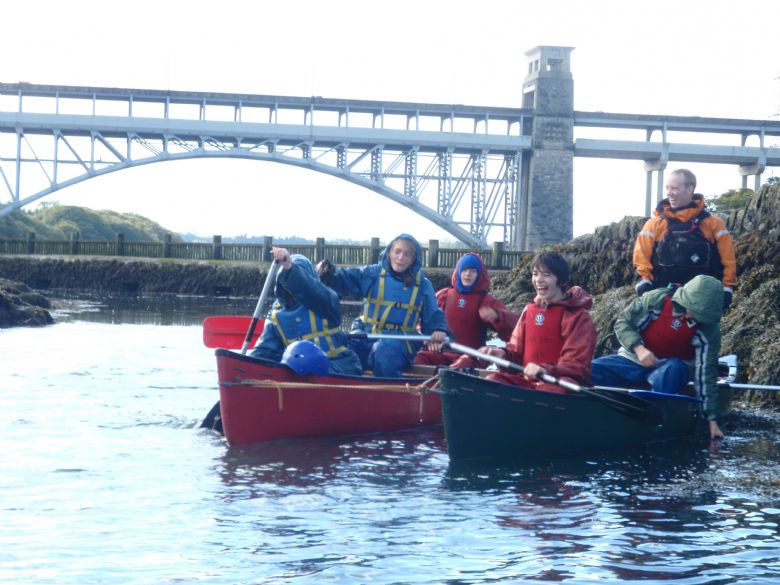 37 year 9 students made the journey to Snowdonia in North Wales to spend a week at Blue Peris Mountain Centre. Despite some interesting weather conditions, all groups engaged fully in all the adventure activities on offer and gained a lot from their experiences. From Sea Level Traversing on Anglesey to Canoeing down the Menai Straits to exploring the depths of unused lead and slate mines to splashing around in the gorge, every student was challenged in a physical and mental capacity and developed their teamwork, co-operation and communication skills. They all realised they are capable of more than they originally thought and now are now more ready to accept any challenges that come their way! All students enjoyed themselves and have some great memories to take away with them. For more pictures, visit the gallery.
Redborne String Ensemble
The Redborne String Ensemble played at the Chicksands Council Headquarters following a personal invite from the Chairman of the Council. Councillor Peter Hollick had heard the students play at various events and invited them to play a tea concert at Chicksands on Friday 21st October.

Redborne Equestrian Team
On Sunday 16th October, Shannon Mchugh, Suzy Smith and Alex Smith competed at an inter-schools cross country competition, representing Redborne. Despite only having 3 in the team, not the usual 4, they still managed to come 2nd as a team. Suzy came 6th individually in her class and Shannon 7th in hers, in spite of having a dog chase her for the last part of the course. Suzy and Alex then went on to do the pairs competition, and won it. Overall, it was a respectable day for the school and the organisers said how well-mannered they all were, being one of the only teams to thank them.
If anyone who owns their own horse and has transport- would like to compete for the school in events such as this one, then please let either Mrs Mackie or Alex know. You do have to have your own horse; the school does not supply them!! Report by Alex Smith
Redborne Fundraising Recognised
Redborne has a tradition for helping both local, national and international causes and is is always good to hear how the money is used. Click here to see how some of the money raised is helping in Afghanistan.
Examination Results 2011

This year's examination results are the School's best ever results across the board.
GCSE Headline Figures:
5A* - C grades 86% (In 2008, 80% was graded outstanding by Ofsted)

5A* - C grades including Maths and English 71%
Individual outstanding achievers include Jemma Allman (11A*, 1A), Harriet Gribbin (11A*, 1A), Rachel Sears (9A*, 3A), Thomas Brewer (8A*, 3A, 2B), Jessica Parrott (7A*, 5A), Katie Cohen (6A*, 6A), Samantha Mooney (6A*, 6A), Serena Kang (6A*, 5A, 1B), Jennifer Cameron (6A*, 5A, 1C), Kieran Jeffs (7A*, 3A, 1B, 1C) and Molly Parrish (6A*, 4A, 1B).
Other students, who surpassed their indicated grades by a significant margin include Emily O'Connor, Lauren Bush, Laura Fleckney (21 Grades), Gaia Ward (20 Grades), Ryan Austin (17 Grades), Sarah Evans (15 Grades), Will Osborne (14 Grades), Thomas Brewer (13 Grades), Rachel Sears, Barnaby O'Callaghan (12 Grades), Serena Kang, Jessica Parrott, and Claire Wicks (11 Grades).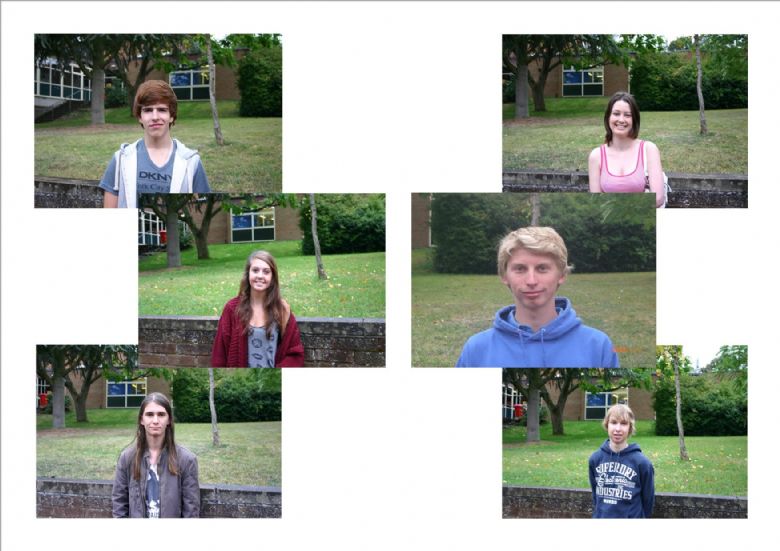 AS Headline Figures
A* - B grades 45% (last year 43%)
A* - G grades 93% (last year 89%)
Average total point score was 388 (last year 372)
Individual outstanding achievements include Jack Wildman (6A), Imogen Diver (5A), Joshua Brothers (4A, 2C), Josie Appleby (4A, 1B), Alexander Howard (4A, 1B) and Toby Willson (4A, 1B).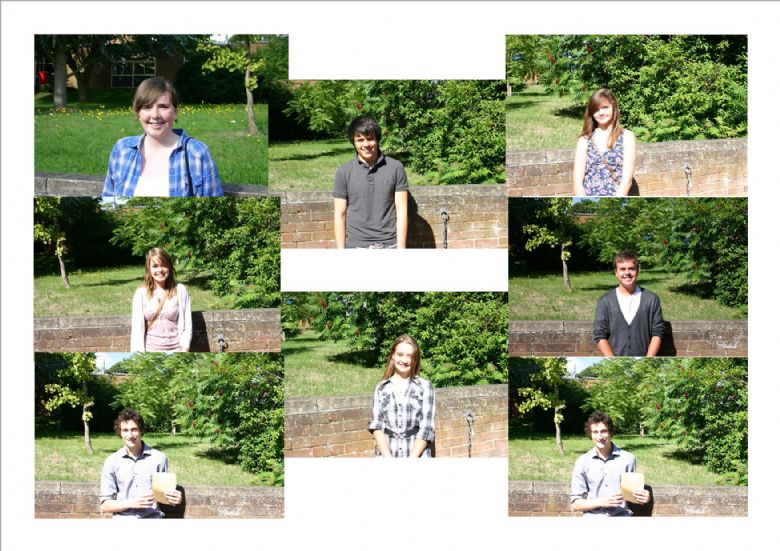 A Level Headline Figures
A - B grades 57% (last year 50%)
A - G grades 99.7% (last year 95%)
Average total point score was 225.8 (last year 207.9)
Value added score of 3 on ALPS
Individual outstanding achievements include Morganne Graves going to Oxford (4A*, 1A, EPQ A*), Benjamin Mackley going to Warwick (3A*, 1A, AEA Merit), Matthew Tilley going to Imperial College (3A*, 1A, 1E, EPQ A), Charlotte Kenealy going to Cambridge (2A*, 2A, 1B, EPQ A*), and Sarah Russell going to Birmingham (2A*, 2A, 1B, EPQ A*, AEA Merit). In addition, Beth Sherwood is going to Cambridge and Alisdair Griffett is going to Oxford.
Other students, who surpassed their indicators by a significant margin include Anthony Day (8 Grades), Morganne Graves, Rachel Robins, Danielle Patmore, Chloe Keenan and Sarah Russell (5 Grades).
Congratulations to all the students for making it a record breaking year.
Chemistry Results at Redborne 2011
The Redborne Chemistry department are very proud of the class of 2011. They achieved an A*-B pass rate of 62%, beating the national average by over 5 %. The break down of grades were 5A*, 6A, 7B, 10C and 1 D. All students have gone on to study at University with the majority of them opting for a degree in chemistry or a closely related subject. The students in the photograph achieved 5A*, 3A, 3B, 4C and 1 D. What a fantastic bunch of young scientists.
Year 10 Charity Week
Year 10 recently held its annual charity week. We staged several events, including a junk food stall, a massive coin collection and a non-uniform day. In total, the year group raised a mammoth £1000. The funds have been donated to four charities : Barnardo's , Cystic Fibrosis Trust, Carers in Bedfordshire and Afghan Connection, a humanitarian charity, which raises money to improve the lives of children in Afghanistan, providing schools, teachers, medical care and sporting facilities.
This year, year 10 has raised in excess of £1500 for a wide range of charities, including Macmillan and the Stop Polio Now campaign. The school is very proud of the efforts and contributions of the students.
News from the Farm
Get all the latest news from the farm by following their new blog at http://redbornefarm.blogspot.com/.
Ampthill Proms 2011
An amazing of evening of music involved Redborne students both past and present 'wowed' a crowd of 1200 in Ampthill Park. The students were a credit to the school and a special mention to all students and staff who rocked the house in the Jazz band, literally bringing people to their feet. For pictures, click here.
The Latest Gifted and Talented Newsletter
Please click here to see the latest newsletter.
Blue Peris 2011
Last week, 37 students and 5 staff set off for the annual GCSE trip to the Blue Peris Mountain Centre in Snowdonia. The long caoch journey was worth all the activity that went on during the week. Kayakers enjoyed the best of the weather at sea level and had a very steep learning curve on some difficult moving water. The hill walkers marched through falling rain and rising puddles before camping in a tremendous downpour. This year students from the OCR National Sport course joined the trip and spent the week visiting other mountain centres and doing a variety of activities including canoeing, mining, climbing and hill walking. It was a tiring week for all and everybody returned on Friday having had an excellent adventure. Thanks to all the students for their hard work and the staff who accompanied them. Click here for more photos.

Girls Cricket
The U15 girls went to Biddenham to take part in an inter cricket tournament. They narrowly lost their first game to Bedford Academy when the thunder came and the rain bashed down drawing the tournament to a close. The girls were brilliant and ably managed by Mr Coverdale.
The Sex Education Show
You might remember that earlier this year, our students were involved in the Sex Education Show for Channel 4. The show will be broadcast on Tuesday 19 July at 8.00 pm. Redborne has been selected to launch the new series because it was the most outstanding programme. Our students did exceptionally well and we are very proud of your input. Our parents also did very well!!!
Dame Kelly Holmes inspires gifted PE athletes from Redborne Upper School
Dame Kelly Holmes, and other world-class athletes, were at the University of Bedfordshire on Wednesday June 29th talking to youngsters (including 17 Redborne students) about what it's like to be a top sportsperson.
"Unlocking Potential", an event organised by Dame Kelly's charity, the DKH Legacy Trust, aims to boost the potential of young aspiring young athletes and will put around 100 pupils from Bedford Academy, All Saints Academy, Barnfield South / West Academies and Redborne Upper School through their paces through a series of workshops.
The workshops, at the Bedford Campus, have included circuit training (led by two-time rowing World Champion and Olympian Toby Garbett), communicating with the media and mental skills training with the aim of inspiring the athletes to their potential.
Some of the advice Dame Kelly has been giving the youngsters today has included what barriers and challenges they may face during their career. Click here for pictures from the event.
"Along that journey we all have these ups and downs and there's a lot of time you question yourself as a person to say whether it's what you want, is it worth it, or there might be financial implication or injury or health problem. Sport has the ability to bring you back and to focus.
"Any sports champion has gone through the complete rollercoaster ride of emotions and issues that have been barriers to their success and their future. But ultimately they have worked through it, they learn and listen and they realise they are not the only person." (Dame Kelly Holmes)
Textiles Show 2011
On the evening of Wednesday 29th June, the Class of 2011 fashion students came together in style as they exhibited their fantastic hard work achieved over the last two years. Friends, ex-students, current students, guests and very proud parents, grandparents and other relatives thoroughly enjoyed and appreciated a beautiful atmosphere of well deserved celebration and success. Please click here to see the pictures from the evening.
National School Sport Week
Talented national standard athletes Harry Janes and Ryan Owens kicked off Ramsay Manor Lower School National School Sport Week on Monday 27th June 2011. They gave an informative and insightful presentation about their experiences of competing at a high level and their individual journeys to the top. The talk undoubtedly inspired the lower school students and helped them to recognise the importance and benefits of taking part in sport and physical activity.
Sixth Form Charity Work 2011
The Sixth Form Council headed by Nerea Ernest and Andrew Mitchell have been very busy this year raising money for charity. They have put on a number of very successful events such as Battle of the Bands, fancy dress, car wash and Redborne Talent Show to name but a few. The whole of the Sixth Form have been heavily involved and made every effort to get behind these events. This academic year £200 has been donated to Water Aid, £1200 to Comic Relief, £800 to Teenage Cancer Trust and £1000 to The Jigsaw Club. The Jigsaw Club is a local charity that has been supported by Redborne for the last two years. They are an Ampthill based Charity who provide transport and social events for local disable people. They receive no funding other than the money they raise themselves and Redborne are proud to be supporters of their cause. The photograph shows members of the year council presenting the award to members of the Jigsaw Club.
Summer 2011 Exam Result Collection Information.
A Level results will be released to students on Thursday 18th August:
Yr13 - From 9am in the North School Hall
Yr12 - From 10am in the North School Hall
GCSE results will be released to students on Thursday 25th August:
Yr11 - From 9am in the North School Hall
Yr10 - From 10am in the North School Hall
If you are not available to collect your results in person you can either:
1) Send in a SAE and they can be posted to an address of your choice
2) Send in a letter, signed by yourself naming a person to collect on your behalf (Please advise the person collecting on your behalf to bring with them a photographic form of identification)
More advice about results day is available
here
.
Sports Day 2011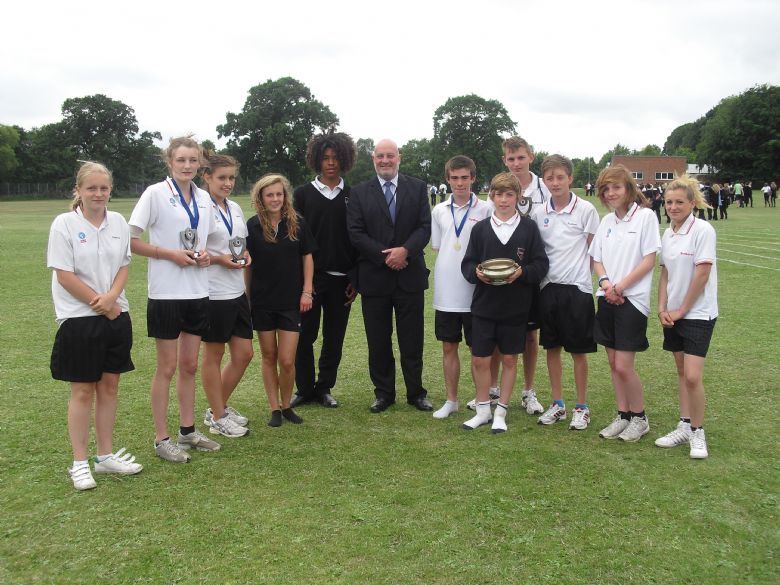 The eagerly awaited Sports Day proved to be even more popular last week when students took part in a range of different activities from cycling and swimming to the traditional athletics. Despite being slightly worried about the weather forecast, the rain held off the events were completed with great enthusiasm. Many of the Olympic and Paralympic values (respect, excellence, friendship, courage, determination, inspiration, equality) were clearly on show throughout. Students who sometimes wouldn't have considered taking part in one of the activities stood up to represent their team and earn them some points. Students of note were Eleanor Vigrass, Lee Kemp, Tara Cox and Jim Hobday, who stood out with their determination proving to be an inspiration to many.
Several records were broken on the day as well. Excellent performances from Emma Fredrikson (equalling Year 10 high jump record), James Black (Year 10 200m and triple jump records), Connor Saunders (Year 9 high jump record) and Daniel Bannell (Year 9 800m record, smashing it by over 3 seconds) saw records tumbling on the day and another exceptional performance from Milly Hunt (Shot Putt) came close to breaking the Year 9 record.
A special mention must go to the spectators who got behind individuals and their teams on the day to provide an excellent atmosphere and we look forward to making it bigger and better event as we move to an Olympic year in 2012. Please click here for the gallery.
Ampthill Eco Festival 2011

Bedfordshire County Golf Championships 2011
Tuesday 10th May was the annual County Golf Championships. Redborne were the defending team and individual champions and really wanted to regain the title. In ideal conditions at Beadlow Manor Golf Club, 7 players from Redborne played well and battled hard in a field of 72 players. Unfortunately there was no silverware to bring home but all the players had a good day and are looking forward to next year. A special mention should go to Andrew Mitchell, whose determination to get Redborne entered five years ago started our association with the competition and he has attended every year since. Thank you to all that took part.
Year 11 A*/A Celebration Evening 2011
20 Year 11 students were carefully selected for their consistently achievements and their high effort grades in both Maths and English, throughout the KS4 courses.
These students were invited to a fun evening to celebrate their outstanding achievements. Parents and governors joined the celebrations.
The students put themselves into teams where they completed a variety of tasks. Afternoon tea was provided and the evening concluded in a highly amusing game of countdown, at which the parents were more competitive than the students. The evening finished with our headteacher issuing certificates.
I would like to thank the staff that supported this evening.For photos of the event, please click
here
. (Mrs Buthee)

Year 11 Prom 2011
Friday 6th May was the Year 11 Prom. As ever, there was a variety of transport and all the latest fashions on view. Thanks should go to everyone involved and especially the Year Team and the Year Council under the guidance of Mr Woodward. Please click here for the photos.
Art Exhibition 2011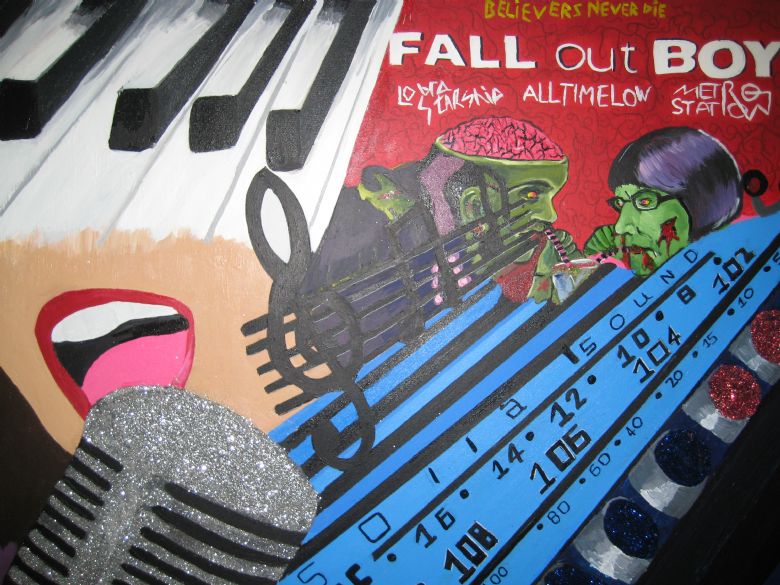 The "Education Exhibition" was held in Redborne Library on Thursday 24th March. The display was viewed by guests and the public from 6.30 till 8.30.
This was an exciting exhibition of current Year 11 GCSE Art coursework in response to their "Education" project brief.
Students in 11D and 11B were asked to produce a final painting which was inspired by a subject, faculty or aspect of student life at Redborne Upper School. Students of all abilities engaged fully in the challenge and worked really hard to produce some quite stunning results, which were displayed to great effect in the library.
The evening was a tremendous success and very well attended! There were commemorative bookmarks based on students work and listings of all contributors. The refreshments, retro nibbles and mellow musical tones helped to create a positive ambience. Many staff, students, family and friends had the opportunity to discuss and admire the work on show.
Comments written in the guest book echoed much praise for the highly imaginative and skilful work displayed. Visitors were greatly impressed by the diversity of interpretation; the challenging scale of many pieces and the complexity that the compositions explored.
Selection of comments left during the event:
"Brilliant work. I was very impressed and would love to see these paintings on permanent display"
"Some amazing pieces of work, teenagers still do have imagination."
"Exceptionally talented young artists… well impressed with the masterpieces… Excellent"
"Some fantastic pieces of artwork- you should all be proud of your achievements"
"Amazed by the skill and technique displayed, but more impressed by the depth of thought which has obviously gone into many of the exhibits. Well done everyone!!!"
"Very good work! I look forward to coming to Redborne and taking Art as one of my options!"
"What fabulous work and such a professional exhibition- excellent venue!"
Miss Maher would like to thank all those who attended the exhibition and in addition, Mrs Roderick, Ms A. Nietto, Charlee Perry, the Senior Leadership Team, the Site Agents, Ms French & Mr Bottone, Mrs Blackwell, Mrs Salisbury & Mrs Griffin. Thanks, most of all, to the year 11 who took part for all their hard work! To see the gallery, click here.
Are you considering a career with animals?
On Saturday 19 March, The College of Animal Welfare will be hosting a 'Careers with Animals Day' at its Godmanchester centre (based at Wood Green Animal Shelter, PE29 2LJ). The event is free of charge and runs from 11am-2pm and is open to everyone, we would be delighted to meet and chat with anyone who is interested in a career working with animals. For more details, click here.
Rotary Club Challenge – 4th March 2011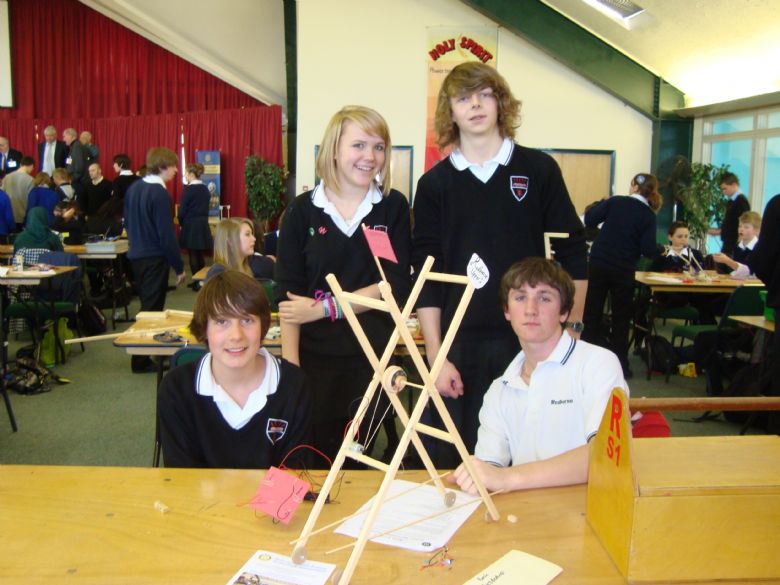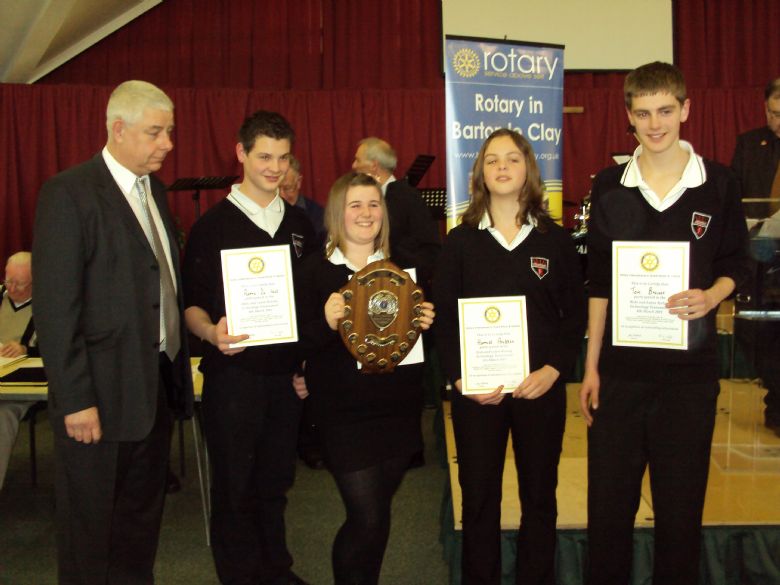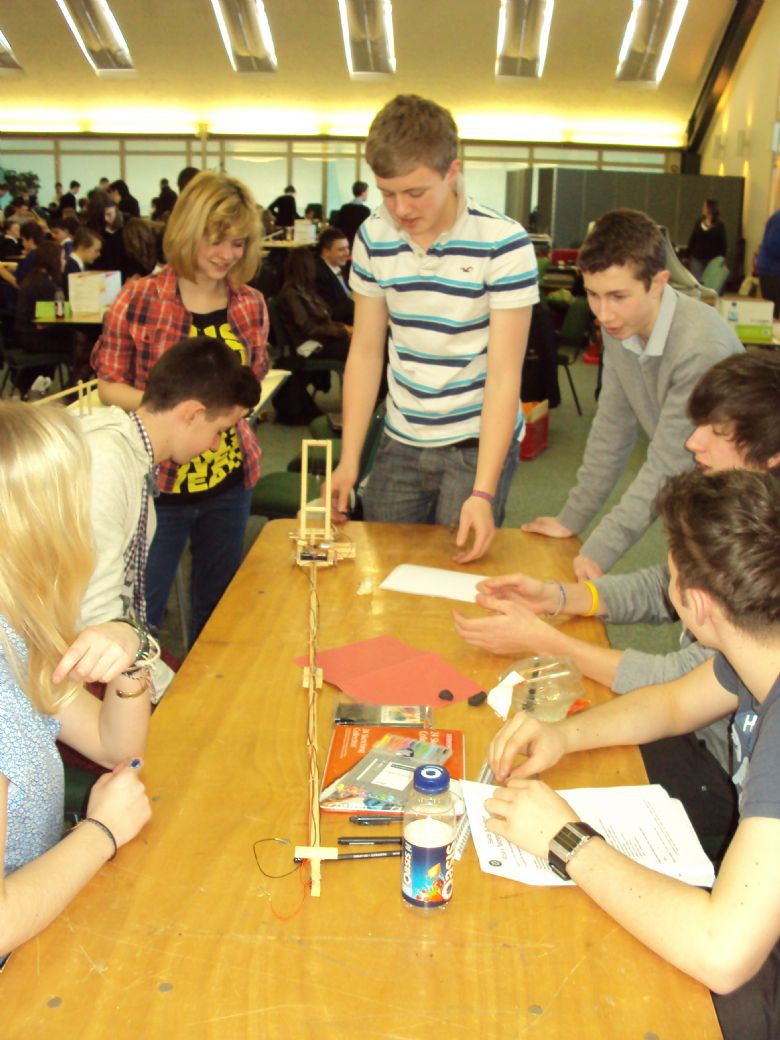 On a bright Friday morning in early March, DT students from Year 10, 11 and 12 loaded design equipment onto the minibus for a day of problem solving and model building. They were entering the Rotary Club Challenge, and were to complete against 30 other schools from around Bedfordshire.
The challenge was at a Basic, Intermediate and Advanced Level according to year group. With varying level of complexity, students had to design and make a device to go under a bridge on a track, collect an object and bring it back to the base. There were some innovate ideas from all teams competing. Redborne won all three categories in the 2010 tournament and there were no expectations as the results were being called.
Redborne successfully maintained the Rotary trophies in all 3 categories for 2011. The students in each team were thrilled and represented the school at a very high level with some tough competition.
Well done to the Basic team: Chloe Wilding, Adam Scroxton, Jack Smith and Peter Smith; The Intermediate team: Harriet Gribbin, Megan Malloy, Pierre De Wet, Tom Brewer; and the Advanced winners: Charlotte Perry, Bradley Clarke, Wesley Strong and Joseph Friend, with close competition from the other Redborne team: Bradley Gifford, Molly Whan, Matt Blackwell, Connor Barry
A great day was had by all. Well done and congratulations.
Battle of the Bands 2011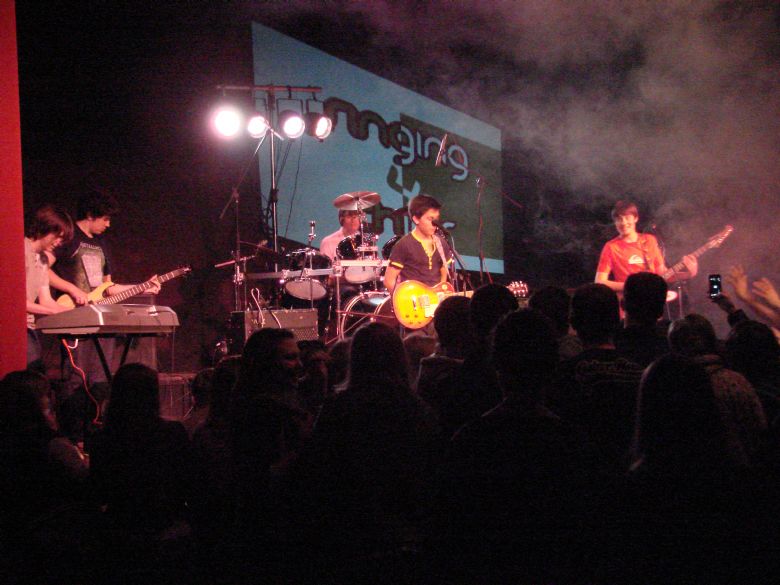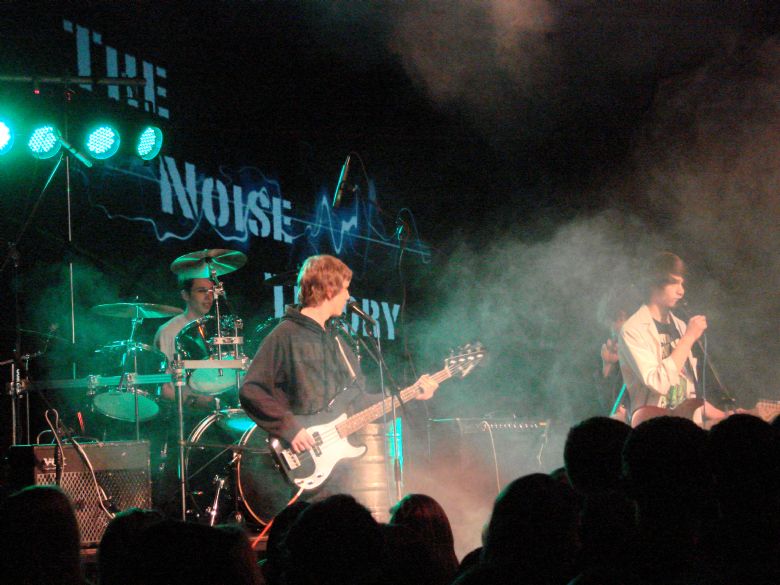 The 9th March saw the Redborne Battle of the Bands take place in the main hall. Students were well entertained with a variety of student bands and had a great time. The crowd was very well behaved and suitably 'rocked out' by the end. At one point everyone was so excited Leon Bratt decided to crowd surf! Leon's Band 'Enraged Horizon' won the competition and will play at the Ampthill Music Festival along with touring a recording studio and recording a song.
A special thank you needs to go to Ben Bottone (Head of Music), who has worked tirelessly for the last few days to put together an excellent sound and visual display and was the main reason the evening ran so smoothly.
It was good to see so many students helping out with the event and they managed to raise over £500 for the Jigsaw Club. For more photos, check out the gallery.
Psychology Trip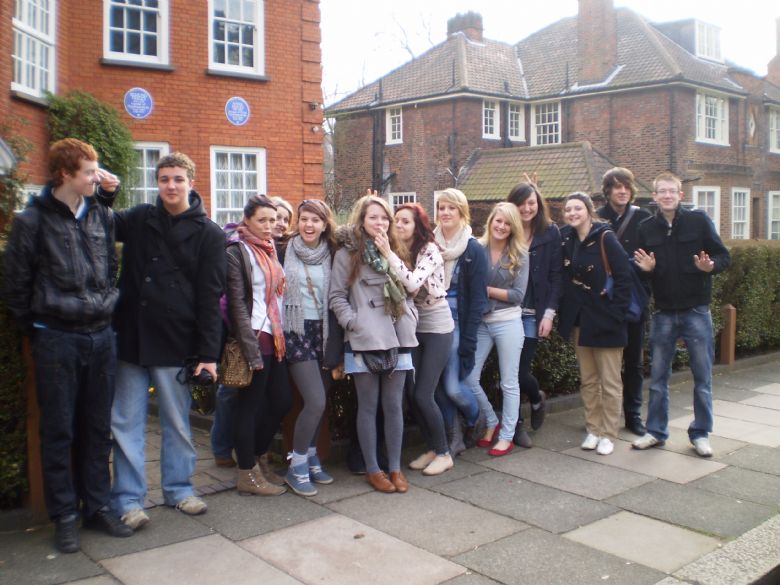 Sixth form Psychology students set off to visit The Freud Museum in Hampstead in February, the home of Sigmund Freud and his family when they escaped Nazi annexation of Austria in 1938.
Students met at Flitwick station for the journey into London arriving late morning. After a photo opportunity outside Freud's house we met our guide 'whacky Ivan' who escorted us to conference room. We were then given a lecture on psychoanalytic therapeutic processes when working with clients experiencing abnormal behaviour and an opportunity to ask questions.
An exhibition of Freud's work into Dream analysis encouraged students to draw 'What is in your mind?' to which students drew some interesting pictures, some of which were mildly disturbing. If anyone wants to see Miss Gant's colourful worm and spaceship, kindly annotated by Mrs Kenny please ask! There was also an opportunity to devise explanations to questions from the exhibition of dreams which were then explained by psychology students and interpreted by whacky Ivan. A creative mind was required and everyone rose to the challenge leading to some interesting interpretations!
After a brief stop at McDonald's for a travelling lunch students munched their way back to the train and back to Flitwick.
Ski Trip to BKK 2011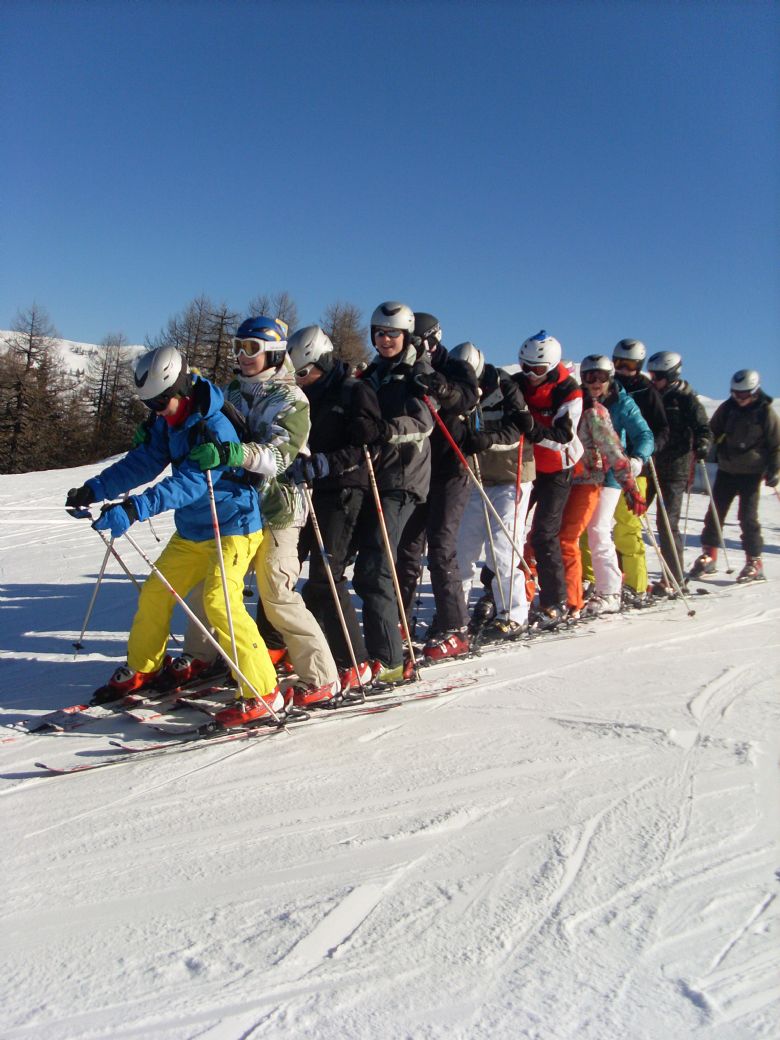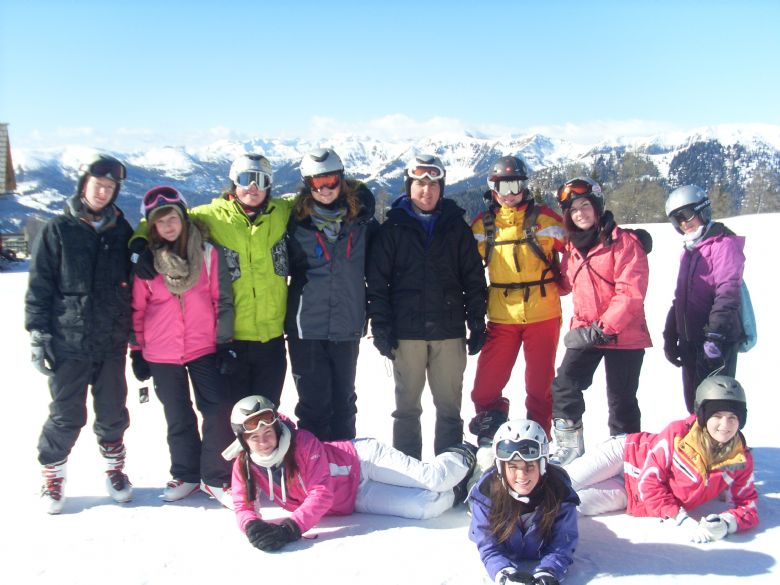 In February half term, 57 students and 7 staff made the journey to BKK in Austria for Redborne's annual ski trip. As well as skiing, students had the chance to have a go at bowling and ice-skating take a candle-lit walk through the village and - most people's highlight - dance the night away at the end-of-week disco! We were quite fortunate with the weather which meant the snow was better quality than we had thought and it seems a good time was had by all, with some students progressing through the ability groups quite quickly. We're already looking forward to next year! For more photos, check out the gallery.
Mathematical Challenge 2011
46 students selected from years 10 and 11 recently entered the Intermediate Mathematical Challenge and they have collectively produced the best results we have ever had. 13 students were awarded gold certificates, 16 silver and 11 bronze. Special mention to Rachel Sears, Jemma Allman, George Bates, Matthew Bailey, Harry Smith and Phoebe Wilsmore who have also qualified for the next stage.
Southern Regional Colleges and University Dodgeball Tournament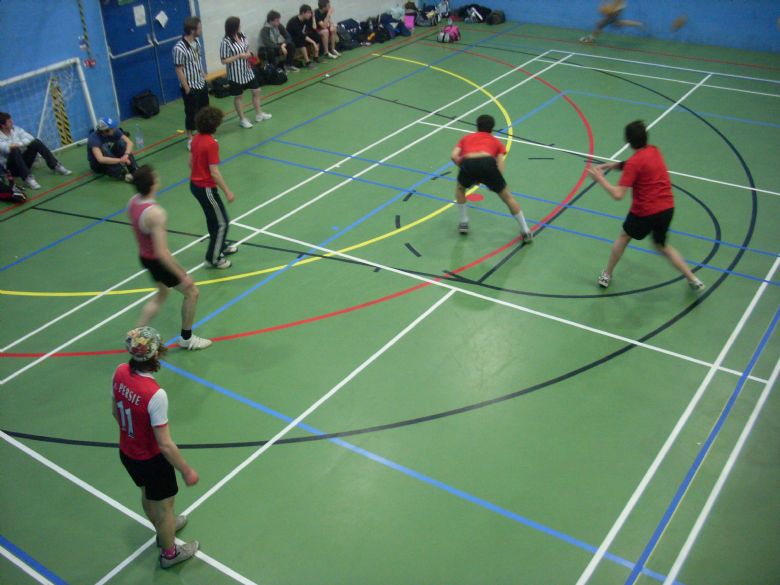 Following their success at the County Tournament, the 6th form boys' Dodgeball team travelled to Winchester on Sunday 13th February to compete in the Regional round of the competition. They were the last college left in the competition and so faced teams from Universities all over the region. They only had 6 players and so found it quite tough going but managed to secure wins against two Winchester teams and played some really good games against Portsmouth University 1st team and the favourites, Warwick 1st team.
Under 16 Sports Colleges Netball

Redborne hosted the Regional U16 Sports College Netball Tournament on Wednesday 16th February and managed to secure themselves a place in the National Sports College Finals. The whole squad played some great netball and remained undefeated all day and so now travel to Charters School, Ascot on 12th March where they will compete with the top 8 Sports College teams in the country.
Academy Update 18th February 2011
Following extensive consultation, the Governors have voted unanimously to move to Academy Status with effect from 1st April, 2011, assuming we are happy with the funding agreement that we will receive in the next few weeks.
Thank you to everyone who contributed to the consultation. We feel the extra resources that come with the independence, will benefit the school, students and wider community.
We will not be changing our name and the students, staff and parents will not notice any significant difference. We will therefore become and independent state funded school on 1st April, 2011.
Once again, thank you for your support.
Headteacher
Tesco Vouchers 2011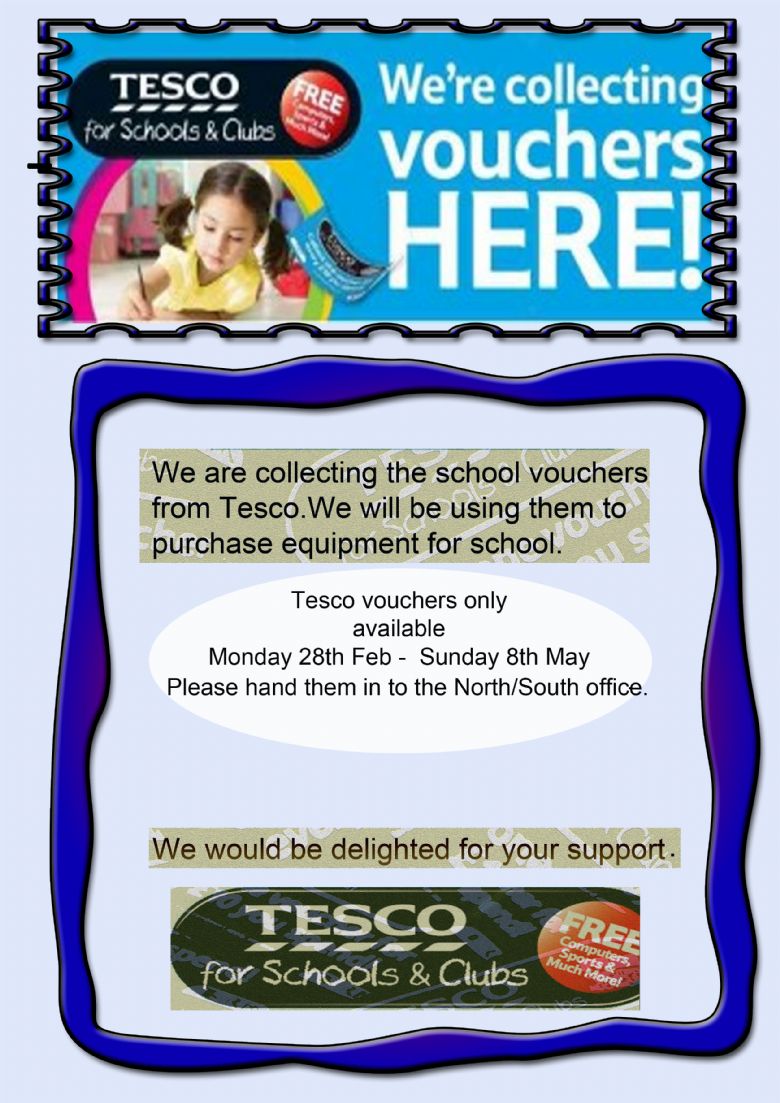 Once again, we are collecting Tesco vouchers for school equipment, please collect them and send them in to the main office. Thank you all for your support.
Under 19 Sports Colleges Netball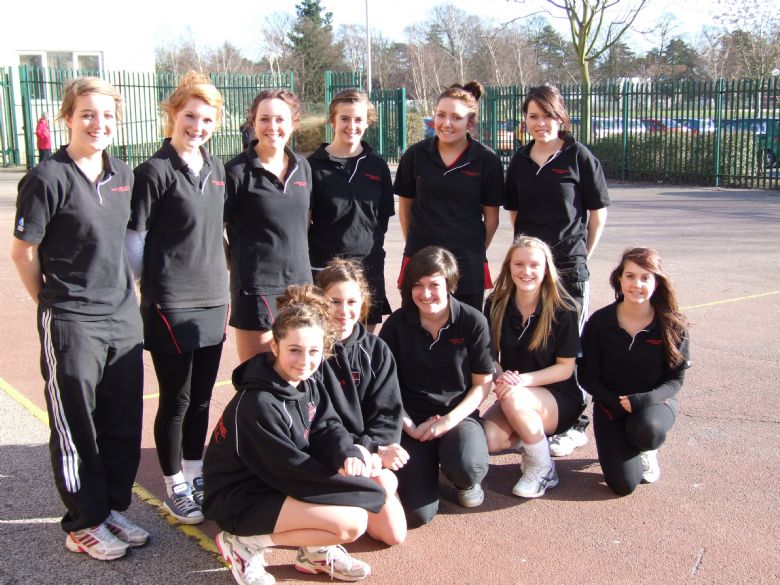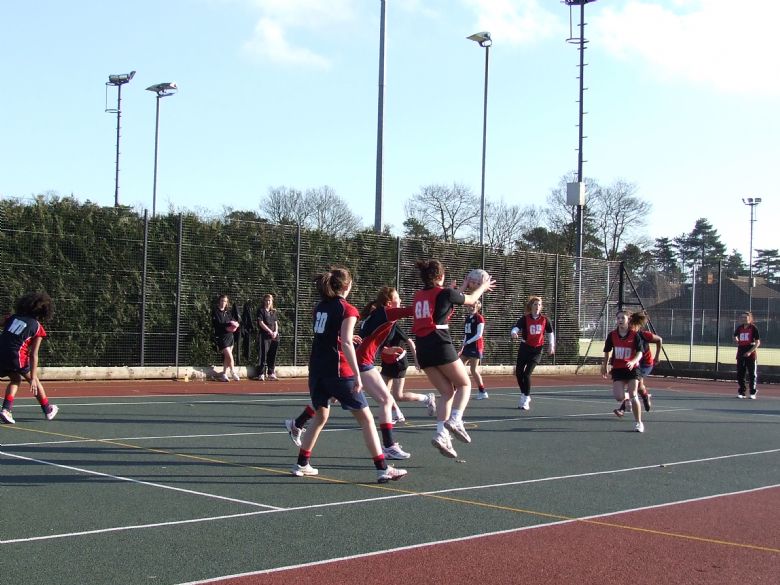 The U19 Netball team travelled to Copleston School, Ipswich on 8th Feb to compete in the second regional round of the National Sports College tournament. They played some excellent netball, remained undefeated all day and so returned as Regional champions. Well done to all involved and particular praise should go to Kitty Bazalgette (yr10), Niamh Duncan and Hannah Stride (yr9) who joined the squad and held their own on court despite competing with players much older than themselves. The squad now travel to the National Sports College Finals on 12 March where they will compete with the top 8 Sports College teams in the country.

Redborne Gymnasts Strike Silver!
On Sunday 6th February, a group of students from across all year groups competed as a group of six in the Eastern Counties Schools Acrobatic Gymnastics Regional Championships and came 2nd out of 6 groups, winning a silver medal whilst representing Redborne Upper School.
The girls would like to give special thanks to their coaches Janine Musson, Sally Pirie and Jessica Bradshaw.
Textiles Presentation
Friday 28th January saw a group of fashion students present their ideas for wedding dresses. Watch the video of their presentations by clicking here.
District Cross-Country 2011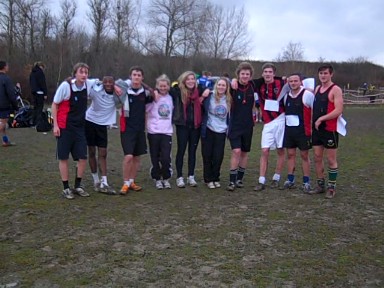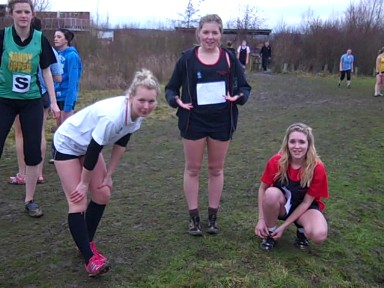 It was a successful district cross country for Redborne School as a total of 13 runners across all years made it through to the county final. In the team event the top four runners in the team count, the U15 boys won with Will Wright coming first. The U19 boys came 2nd and the other success was in the U19 girls as Hannah Williams came 1st, Brogan Fielden 3rd and Lauren Brooks 5th. Well done to all that took part.
Looking to the future
It is that time of year again when students start looking towards their future choices. Year 9 are starting to prepare for GCSE options and Year 11 students are looking at post 16 courses. It is important that these choices are carefully thought out and informed through go. To that end, there is information available through a variety of channels. Please feel free to visit our careers advice page to have a look at the information available, as well as using the curriculum choice booklets available on our website.