Redborne Racing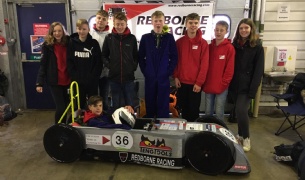 Redborne race up the grid!
The Greenpower final from Rockingham Raceway on Saturday was held in horrendous wet and windy conditions.
Last year the team finished 36th nationally from around 350 other cars, so to finish this year in 21st place is a massive result and huge improvement for the kids involved. All of the students and staff involved deserve a massive pat on the back!
Drivers: Bradley Pollard, Nathan Ducker, Cameron Davis, Hollie Madigan
Pit Crew: Tyler Shepard, James Costin, Adhvay Rao, Jude Lewis, Keesha Coker, Hollie English, Henry Treanor
The car will be on display in the school foyer with some more pics form this years racing.