Redborne Festival 2018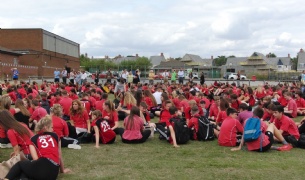 Redborne holds its first sports and music festival and it rocks!
Redborne held its first sports and music festival and it was a huge success. All the Year 9 and 10 students were involved throughout the day in a wide range of sporting events ranging from frisbee to kwik cricket, from softball to dance. There was a keenly contested pentathlon event with lots of school records tumbling.
It was good to see so many people involved and with smiles on their faces. The morning sports sessions were followed by a music concert in the afternoon. There were performances from the Redborne Jazz Band, former student Leon Bratt and a number of student bands and artists. Along with the music, there were a number of food and drink stalls run by staff and students to keep the crowds fed, watered and cooled down.
The whole day had a positive feel to it and next year will have something to live up to. Thanks should go to the amazing student and staff, who made the day so successful. A special mention to Mrs Grainger and Mr Bottone, who were the driving force behind the day. For photos of the event, please click here.