redborne racing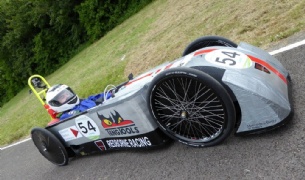 Redborne Racing continue to develop the car.
The Redborne Racing team have been working hard all year to prepare for the race meetings this year to compete in the Greenpower electric endurance race series. Spring development on the RB3 race car included producing new brake hanger brackets using Pressfab in Flitwick and wheel alignment to improve rolling resistance. The team sourced extra support through a crowd funding page raising over £200. The project continues to develop, with member from Y9, 10 and 11 working hard each week to make progress in a number of areas.
After races at the Ford test track and Rockingham, Redborne Racing are currently 36th from 180 other teams. The team finished at the Ford Test track with a 3rd place and best looking team kit. We completed a record mileage at Rockingham for the car of 33.38 miles in 1.5 hours of racing. Each team member has a specific role on a race day from monitoring lap times and motor rpm, to pit stop management. At the current positioning, with 2 heats to go, Redborne Racing are set once again to make the final at Rockingham on 8th October with the aim of finishing in the top 30 teams from the UK.