Year 11 Prom 2017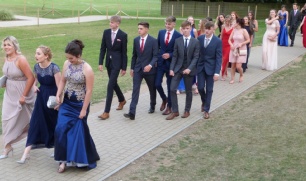 Year 11 celebrate the end of their exams with their prom.
Year 11 arrived in a wide variety of transport from a big rig to sports cars and from old American pick-ups to an old red bus. The weather was fantastic and everybody came to watch the Hollywood entrances! The students then promenaded to North School, where they partied to the sounds of the DJ.
Mr Woodward and his team of staff and student organisers had laid on a feast of oven baked pizza and cake as well as arranging a wide range of old school fairground attractions such as 'hook-a-duck' and a coconut shy. It was a tremendous evening enjoyed by all students and staff alike. It was a great way to end their time as members of Mr Woodward's year group and we all wish them the very best for their results in the summer. If you wish to see some pictures of the event, please click here. Students can see lots more pictures on lesson store.