Redborne at ampthill festival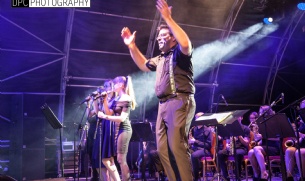 Redborne students and staff support every event over the festival weekend.
Redborne students and staff have had a very successful weekend. For those who were not aware of the full extent of our involvement, it included:
Thursday-Sunday a tech team of 7 students from the school working alongside the professional lighting, sound and stage crew to rig and run the stage and equipment.
The band ARCOS performing at the beginning of the Amp Rocks alongside live interviews on 3 counties and BBC radio 2 and a live performance on 3 counties.
Jazz band performing at the Proms with most of the audience on their feet dancing away
Many students performing with the Town Band and Orchestra.
The entire music department involved on stage at the Proms performing and introducing the event.
The Samba band leading around the festival day parade.
Lewis Brown DJ'ing for the Festival on the main stage all day on Sunday.
Hundreds of our student supporting the events with their families in the crowd.
"I am immensely proud of the students and community for everything that they have put in and this support reinforces the need to keep music and performance a vibrant part of our community lives. There were lots of parents and future parents at these events and it was lovely to here time and again that they could see the outcomes of the hard work and wanted their kids to be part of it. Many thanks must also go to Mr Baker and Mr Price in the music department for all their hard work." (Mr Ben Bottone - Head of Music)
If you wish to see some of the photographs of the events, please click here. Thanks to Dave Channells - professional photographer for allowing us to use his images.