Rotary Technology Competition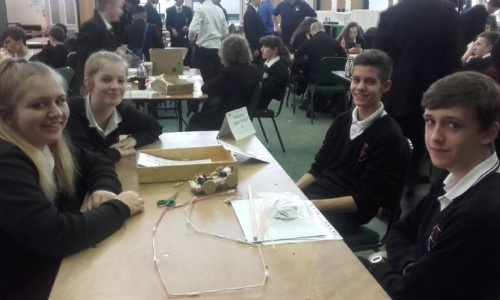 Congratulations to the mixture of KS4 and KS5 pupils who took part in the Rotary Tournament at Stopsley Baptist church on Friday 3rd March.
The 4 teams were set a design and make challenge where they needed to produce a design portfolio and a functioning model. This year, they were asked to make a vehicle to travel along a pipe and push/pull some debris. Quite a tricky one!
Foundation -
Samuel Harrison, Zoe Holland, Maisie Iles, Thomas Woods
Intermediate A - Danny Shaw, Abigail Church, Jess Wright
Intermediate B - Samuel Herbert, Hayley York, Sammy Rudkin, Becci Richards
Advanced - Ellie Roberts, Megan Harris, Sam Collins, Gabriel Forbes
Our first-time competitors in theFoundation Team won against the 9 other schools! The Intermediate A team were runners up despite being one man down, their photos and the winning trophy can be viewed in the display cabinet at the entrance of the Design Technology block.
All pupils were a credit to the school and a fun day was had by all. Rachael Swinney