Work Experience in Spain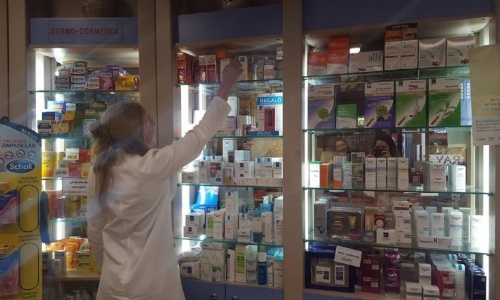 Halsbury Work Experience
In previous years sixth form language students have independently completed work experience abroad through the reputable company Halsbury Travel.
Such an experience has proven to be extremely beneficial both in terms of improving linguistic abilities and developing a cultural understanding of the country visited. This year, Zelda Gill had the opportunity to work in a farmacia in Spain during the half term break. Miss N. Crossley
This is Zelda's account of her experience.
Doing work experience abroad is one of THE most inspiring, challenging and rewarding things you could do.
My Spanish class and I were given the opportunity to take part in a work experience in Spain with a company called Halsbury Travel. I was, at this point, struggling in Spanish classes as I'd just received a low AS grade. My confidence was low: I needed to boost it in some way, so I applied online to go in February half term. Of course I assumed at least one of my friends from my Spanish class would join me, but no one seemed up to it. So I went on my own.
There were people of my age from different schools, whom I met for the first time at the airport and we all got to know each other throughout the week. In fact I made some friends for life and we are all hoping to return to Spain sometime in the future.
I gave details of my interests before going on the trip and specified that I was interested in biology and chemistry. The company was so helpful in finding me a specialised work placement and I ended up working in a pharmacy. Not only was I able to talk to customers in Spanish but also I felt I was improving my knowledge in my other A level subjects.
There were some amazing work placements that people on the trip were able to attend. As an example one boy worked in a performing arts school and helped to direct a play in Spanish which we all went to see on one of the evenings. It was insane how much we had all learnt at this point, so much so that we understood a whole play and were able to speak about it afterwards with the people working in the theatre.
I had an amazing time, and although there were low moments, especially early in the week, where I felt I understood no Spanish at all, there was a certain breakthrough point where my brain, in some sort of way, clicked. By the end of the week, I was able to understand almost everything and speak with so much more confidence than before. I have certainly benefited from it and would recommend the trip to any A level student who is aiming high!