Year 9 Trip to the First World War Battlefields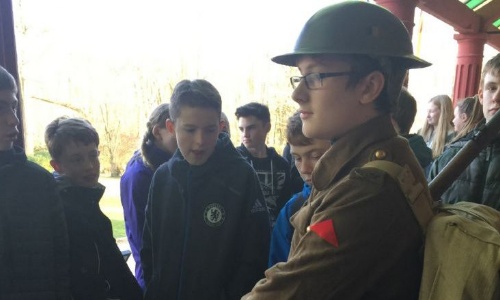 The trip to Ypres in February 2017 was a big success. After a very early start at 5 O'clock in the morning, the long coach journey was definitely worth it as the sights that were seen were amazing.
The Eurotunnel was an interesting experience for many as was the drive through two countries. When we arrived in Belgium at about 11.00 we had already picked up some excellent tour guides and we were ready to go.
We drove through countless flat fields until we reached the second largest commonwealth cemetery in the world. We were taught about how and why the graves were organised in a certain way and how so many people of different races and cultures took part in the war. We then visited another cemetery where fewer soldiers were buried but they all had a different story. We then took a trip to a large German graveyard and learnt about how and why it came to be there. This was also where Adolf Hitler had once walked.
The Canadian memorial was next and it was massive. There we learnt about gas attacks and how they changed the war. We learnt how gas masks changed from useless bits of cloth to more modern equipment in a matter if years. The trip to the Passchendaele memorial museum was amazing as we learnt about many different bits of equipment, walked in bunkers and trenches and even got to try on a soldier's uniform and gear. We ended by visiting the largest commonwealth cemetery in Europe and paying our respects to the many soldiers buried there by placing a poppy wreath with a message from Redborne pupils.
We had a great time and learnt a lot as you would hear if you asked any student who went on the trip. (Louis Gill, 9DBY)