Summer Concert 2019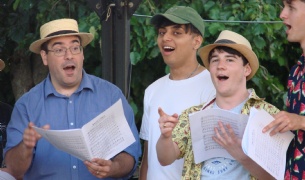 Another fabulous occasion, and a great send off for Mr Bottone!
The weather was set fair for this year's Summer Concert and proved to be a fitting tribute to all the hard work put in over the years by the students and staff. The audience was wowed with some fantastic performances and swelled by a number of returning students. Mr Bottone leaves Redborne at the end of this term and this concert was another example of the high standard of music that he and his department have managed to achieve over a number of years. He will be missed by students and staff alike, but leaves his department in safe hands. He will still be seen from time to time in his new role, but should you wish to see more of him and the Redborne music students and staff, there are many of them performing in the Ampthill Festival this weekend. For pictures of the Redborne students at the Proms, please click here. Thanks to DPC Photography for their permission to use these photographs.
Once again, thank you to all the students and staff that put in so many hours practice to achieve the high standards witnessed last evening. For pictures of the event, please click here.