Battle of the Bands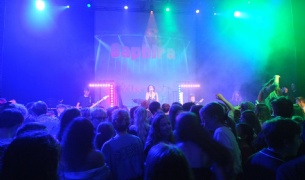 Ten bands, three finalists and one winner;
Battle of the Bands 2019 was in one word, AWESOME! Each band had gone through auditions, sound checks and hours of practice for the night, their impeccable standard showing their dedication. From original songs to "Blame it on the Boogie" and the Friends theme tune, it was an incredible experience that brought on crowd-surfing, screaming and "questionable" dancing from an electric audience of over 300. After watching each band then perform their two songs, many awaited as the judges nailed it down to the three finalists; The Misfits, No Rest and Back Pocket. All of them then performed spectacularly, and it was Back Pocket that secured the win and were crowned the deserving winners of this incredible night. They will be playing in the Bedfordshire Schools' Battle of the Bands at the Stables on the 27th March and also at AmpRocks on the 5th of July, whilst the two other finalists will be playing at the Ampthill Festival 2019.
Well done to everyone who performed on the night including: Tone Deaf, The Shambles, Box of Crayons, Daisy and the Alphas, Discord, Saphira, Park Avenue, No Rest, Misfits and Back Pocket. All the bands should be proud of their amazing talents and for being some of the most genuine, funny and professional bunch of people in Redborne.
Thank you also to the tech team of year 10, 11 and sixth form music technology students for providing such an awesome experience. Special thank you to Mr Price, Mr Bottone and Mr Cappello for their efforts running the event. For pictures of the evening, please click here.
(Review written by Charlie Galvin)