European Culture
French, German and Spanish perspectives - visiting England for the first time.
Julia Nölle
My first thought on England was that the weather is much nicer than I expected it to be because it doesn't rain as much as everybody was telling me before I came here. I really like that basically all shops are open on Sundays (everything is closed on a Sunday in Germany) and that everybody is really nice and helpful.
Patricia Da Cruz
My first thoughts about England were that it would be hard to adapt to the supposedly typical English weather- that is rain every day. But it has been a nice surprise to realize after ten days that it hasn't been raining at all. Moreover I expected it to be difficult to find proper food, vegetables and all, in supermarkets, I thought I wouldn't get all the jokes English people make not because of the language but because of their peculiar sense of humour, that I would risk my life everyday trying to cross the streets, that I would start to enjoy the pleasures of queuing whenever I can. I guess it is part of the clichés French people have about England, because actually none of them, or at least not all of them, are true- I still don't get how to cross the streets, and as a French person I don't understand the interesting part about queuing- and I am enjoying the life here, I like living in Flitwick and working at Redborne.
Laura Madina-Villalba
My current thought about England is that although it is colder, generally, the weather is better than in the Basque Country! Actually, I have not taken my umbrella for many weeks! People are very kind and helpful and I am so glad of being able to get to know the British culture. What I do not like is that shops close too early! I have not managed to get used to that yet!
Christmas on the Continent
Julia Nölle
Germany
On the 6th of December, we celebrate St. Nicholas Day. Children need to polish their boots and put them out in the evening. During the night, St. Nicholas fills them with sweets, chocolate, nuts and fruit. His little helper, Knecht Ruprecht, gives charcoal to the children who didn't behave well in the last year (but it doesn't happen very often)
We get to open our presents on Christmas Eve, the 24th of December.
Before Christmas, German people (mostly the women) spend hours in the kitchen to bake tons of Christmas biscuits, for example cinnamon stars and gingerbread.
On New Year's Eve, we watch "Dinner for One" on TV (it has been translated into many German dialects, but most people watch the English version)
We also melt lead, pour in into cold water and read the future from the shape of the lead
Patricia Da Cruz
France
I usually celebrate Christmas with my family on the 24th December. We eat traditional French meals such as seafood – oysters and prawns- and foie gras as a starter, then turkey with chestnuts. As a dessert we eat a Christmas log, like all French people. We get the presents right after midnight, because it is too hard to go to bed and wait until the morning to open them. As long as we open them after midnight we're not breaking Christmas celebration rules, are we? As a child it used to be the most exciting day of the year for me since it was the only single day during the year when I was allowed to stay awake so late in the evening. And I would stare at the Christmas tree all day delighted at the prospect of getting the presents one day before lots of people.
Laura Madina-Villalba
Basque Country
Spanish Christmas starts the 22nd December with "La Loteria del Gordo" and lasts until "el Dia de Reyes" the 6th of January. We have many days to celebrate and I normally spend these special days with family and friends and eating and gathering together is that we like most. There are some days such as the 24th, 25th 31st and 6th in which have family reunions. Normally, there are 25 of us having lunch or dinner at my place! I love that.
The first reunion is "Nochebuena" (Christmas Eve) and Olentzero, a traditional character of the Basque Country), comes into our houses to leave some presents that we open In Christmas day.
New Year's Eve is called Nochevieja and after a great dinner, we eat 12 grapes at midnight. It is said that they bring good luck, in fact, if we eat a grape with each strike of the clock we will be lucky for the New Year to come! Afterwards, we normally go with friends and welcome the New Year.
The day I like most is the 6th of January, "el Dia de Reyes" because I see all my family and obviously we get some presents from "Los Reyes Magos"! The day before, we place a shoe under the tree so that The Three Wise Men know where to put the presents! After opening the gifts we have lunch and we eat "el roscon de Reyes", a very typical and tasty cake.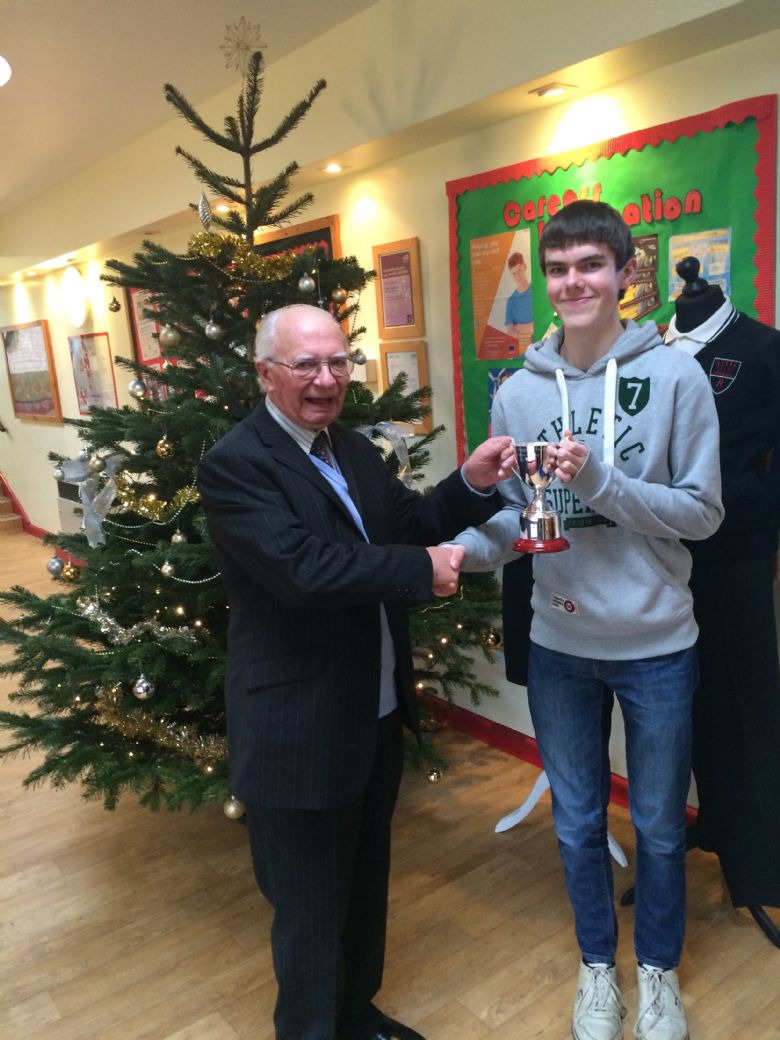 Margaret Chettle Cup
Matthew Holman receiving the inaugural Margaret Chettle cup from Mr John Walker which is awarded for achievement in GCSE French. Both John and Margaret Chettle were long-serving Modern Languages teachers at Redborne school.